At Oakham School, we welcome applications from candidates at 11+, 13+ and 16+ for a range of scholarships to recognise academic, all-round, creative, or sporting potential and excellence. 
There are two types of scholarship available: those that carry a small fee reduction and honorary awards. Additional financial support is available through means-tested bursaries and candidates can apply for both a scholarship and a bursary.
New for 2024 – 11+ Performing Arts and Sporting Talent Awards
Performing Arts Award
We are looking for pupils who love watching and performing on stage. You will have a keen interest in acting, dancing and performing and would love to throw yourself into all that the Oakham Drama Department has to offer you.
Sporting Talent Award
We are looking for pupils who can demonstrate evidence of athletic ability, the ability to work hard and demonstrate self motivation and a clear desire to compete and strive for success. You will have advanced physical competencies and movement skills and will benefit from high level coaching.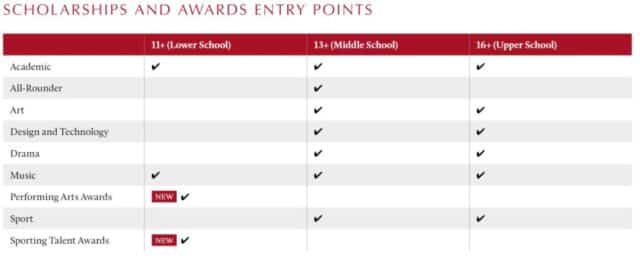 For more information please contact our admissions department admissions@oakham.rutland.sch.uk
The Oakham Foundation Award
We offer two places for The Oakham Foundation Award, which is a means-tested scholarship specifically designed for pupils and families who would otherwise not consider an education at Oakham School. These awards are for 11+ (Year 7) and/or 13+ (Year 9) entry.
Recipients of an Award will be exceptional, academically driven, empathetic, bright, and respectful, with a desire to discover new talents and enhance themselves and the Oakham Community.  Candidates from the Midlands will be prioritised. Families applying for this Award will typically receive Government support or have a family income of less than £25,000 per annum.
Candidates will need to sit assessment tests, which will include scholarship-style papers in Mathematics and English. They will also have an interview with the Headmaster and one other member of senior staff, in which they will demonstrate drive and ambition for themselves and others. We will also take up a personal reference from their current school.
Arkwright Scholarships for Sixth Form entrants
Oakham is affiliated with the Arkwright Scholarships Trust, a national award scheme for pupils wishing to study Design and Technology and/or Maths at an advanced level.
How to apply
Contact our Admissions team, who will be able to answer any questions and send the appropriate forms. We also recommend speaking with your child's current headteacher, as we will ask for a confidential supporting report from them. A form for this will be sent with the application form.