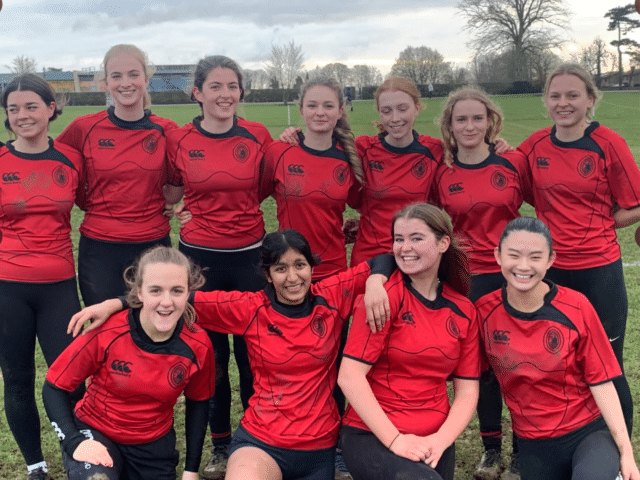 Form 7 girls played their first rugby training game against Oundle last week and are embracing the introduction of this new sport.
The team was set up after a number of girls expressed an interest in playing and they are showing just how fun, high energy and exciting girls' rugby can be.
Director of Sport, Dr Simpson, said, "The game is a positive addition at Oakham. It is one of a number of opportunities that the girls have to play team sports along with Lacrosse, Hockey, Cricket, Netball and Football."
Next week the team will be practising contact and tackling skills at the Martial Arts Dojo in Oakham, and they are looking forward to return fixtures at Stamford, Uppingham and Oundle.
Team member Hattie, who was a driving force into getting the sport up and running, said, "I've always wanted to play rugby. Mainly I wanted to give the girls an equal opportunity to boys in sports, especially as it has been shown that playing rugby reduces stress, acts as an outlet for your frustrations and you feel so good afterwards."
Other team members commented, "Training has been fun, as it is sociable and good exercise. It is moving at a good pace that is suitable for our abilities. We have a good coach and we are looking forward to seeing how we perform as a team in the weeks to come."
The girls hope that their team will provide a foundation for girls' rugby for the future and become as successful as Oakham's boys 1st XV team, who have currently reached the semi-finals of the National Schools Cup.
Oakham School aims to enter two girls' teams (U16 and U19) in the Rosslyn Park 7s competition in March.
Other exciting Oakham rugby news include Form 6 pupil Toby playing for England U20s v Scotland, Old Oakhamian Jack Van Pootvliet starting for England vs Scotland in the Six Nations tournament and Old Oakhamian Fred Davies scoring a Premiership debut for Bristol Rugby.