Oakham School's Director of Sport Iain Simpson dropped into the Drama Department to deliver a boxing masterclass to the cast of the forthcoming Scholars' Production The Sweet Science of Bruising.
In the first of several coaching sessions, Iain guided the actors through the basic principles of boxing in a fun and fast-paced class.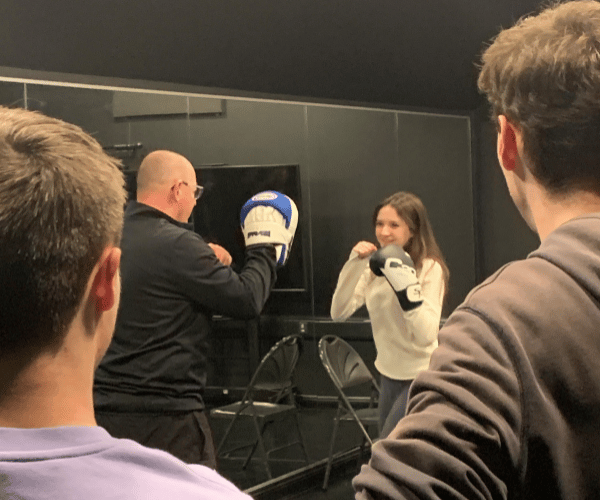 Director of Drama, Gilly Norell, said: "As much of the action within the The Sweet Science of Bruising takes place inside a boxing ring, we wanted to give our cast members a thorough grounding in the sport. This will help them bring power and authenticity to their roles."
"It is great to collaborate with another department in the School and highlight the connections between our subjects. Boxing, in particular, shares similarities with dance, requiring focus, precision, strength, balance, and flexibility." She continued.
"In our productions, it is essential to choreograph our dances and we will be doing exactly the same with the fight scenes. We are very grateful to Iain for taking the time to coach and inspire our actors." Gilly concluded.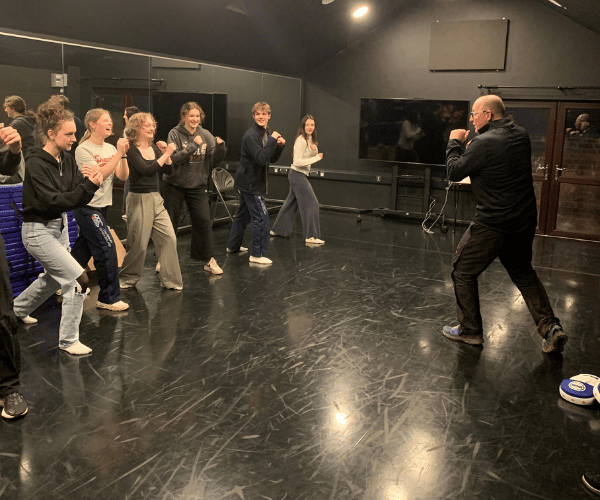 The Drama Department regularly arranges for specialist coaching sessions from visiting experts. Acclaimed Actor and Old Oakhamian Richard Hope ('71) recently ran a theatre workshop for a group of Oakham's Drama students, offering acting tips and techniques to practise in both their academic and extra-curricular theatrical pursuits.
Catherine Weate, a talented voice and dialect coach, ran a workshop at Oakham to help the actors develop their voices and accents in readiness for their roles in the Scholars' Production of The Cripple of Inishmaan.
The Sweet Science of Bruising runs from Monday 6 – Thursday 9 March in the Queen Elizabeth Theatre. To buy tickets for the show, go to theatretickets@oakham.sch.uk .
Keep up to date with the next productions and find out more about Drama and Theatre at Oakham School.