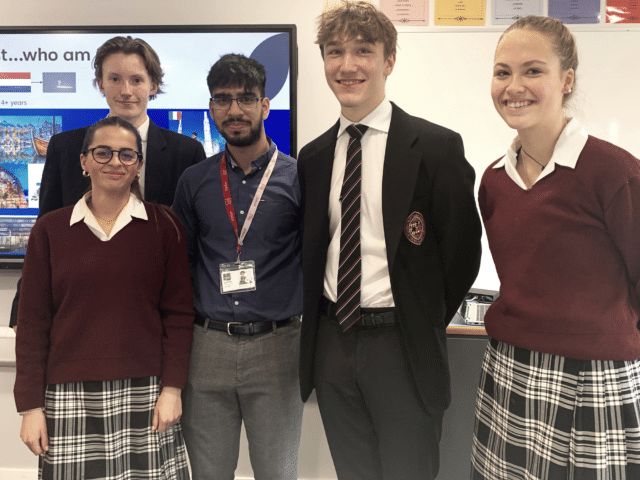 University student Basit Nayani, who is studying International Business at the Rotterdam University of Applied Sciences, recently visited Oakham Form 6 Business students providing them with an insight into studying Business at the university.
Students learned about everyday life at university, from top tips on budgeting, preparing healthy meals and housing advice to information on the importance of meeting deadlines.  Basit also explained that organisation and meeting deadlines are your best friends in studying for a degree.
Diving more deeply into his course, Basit talked through the different units that are delivered, such as Financial Accounting, Marketing and Supply Chain Management, as well as the free electives, such as learning a language and studying Law.  From here, Basit explained to Oakham's Form 6 students the different paths that a business degree can take, whether that be fully academic, including a sandwich year in industry, or perhaps studying for one semester at another university elsewhere in the world.
Head of Business, Sarah Donlevy, said, "Thank you to Basit for his insightful presentation. Our Students gained a well-rounded understanding of the options available as they begin their journey into life After Oakham."
Feedback from students included:-
"This talk was useful as we got clarity on university housing and subject specifications."
"I enjoyed the first-hand knowledge about uni and the fields of business people apply for."
At Oakham, Business is taught post-16 at A-level, BTEC and in the IB Diploma.