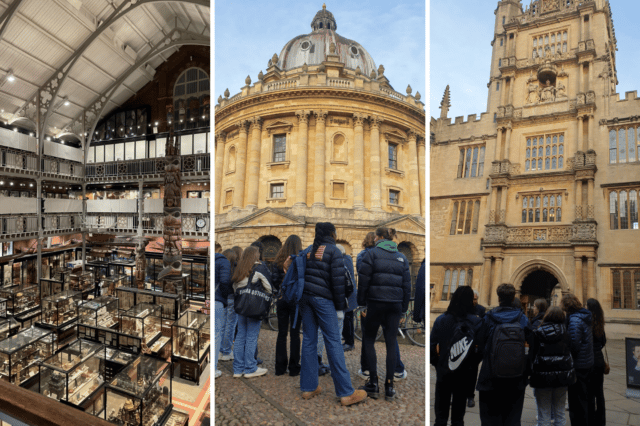 Form 6 IB Theory of Knowledge (TOK) students enjoyed a trip to the Pitt Rivers Museum in Oxford, giving them the opportunity to consider a range of artefacts and questions about culture and knowledge. The day also included a guided walking tour of Oxford, including a tour of Balliol, founded in 1263, one of Oxford's oldest colleges.
Form 6 pupil Tasia said, "The goal of the trip was to research and link our exploration of 'how we know' and 'what we know' in TOK to the international Archaeological and Anthropological objects displayed, such as art, materials and technology, which hold important historical context, culture and meaning. It was enlightening to listen to a talk on the west's colonisation of past and present tribes and how its damages are still being repaired by museums today. In particular, I enjoyed hearing that tribes are receiving their objects back to learn about craft, ancestry, and traditions, but many have asked the museum to preserve and publicise their lost objects and culture for them to share knowledge, tradition, stories, and evolution."
Form 6 Polly said, "We took part in a lesson on the Museum's collection and its direct links to colonisation. We were told about how many of the artefacts in the museum were obtained as a result of the colonisation of different communities, which I had never thought about much before. This was powerful in changing my perspective when we went on to view the collections, and I certainly looked at the displays in a different light. We learnt that the museum is now working to cooperate with the communities from which the artefacts originated, to either return them or to keep them on display so that others can continue to learn more about their culture. Either way, this seems like a good way to address the dilemma colonisation brings.
We then had a short tour of the museum, where it was astonishing to see the breadth of the collection. The talk really helped me to appreciate the displays – I never thought I would want to spend more time in a museum!
In the afternoon, we had a guided tour of Oxford, where we saw many of the colleges. The tour was a good end to the ToK trip, as we were able to uncover a small part of Oxford's history as we explored the city."