Strength and Conditioning coach crowned Aussie Rules European Champion!
20th October 2022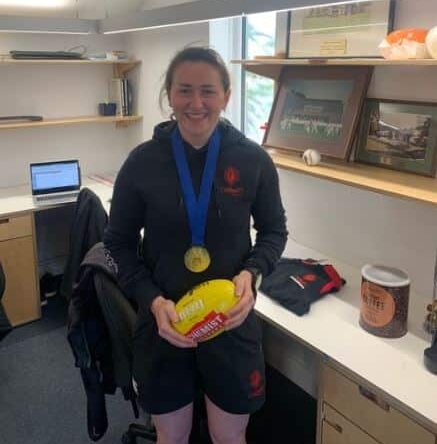 Congratulations to Oakham's Strength & Conditioning Graduate and Coach Eva Cafolla, who was part of the winning Irish Aussie Rules team that was crowned European Champions on 8 October 2022.
The undefeated team secured victories over Great Britain, Croatia, Germany and the European Crusaders in the Championships held in Croatia, defending their title claimed pre covid in 2019.
Relieved after the win, Eva said, "We achieved a world record score in our semi-final match; I am proud to have represented my country and to come home champions." Eva continues, "We are currently in the off-season, so the focus for me now will be playing rugby to a good standard. Club Champions League will be held in April in Germany and the season will begin after. International games will hopefully be held in Miami next year."
Eva, who is still relatively new to the sport, only playing for two years, made her first international debut match in August 2021. Over the Summer of 2022, she was invited to play with the West London Wildcats, the biggest 18-side league outside of Australia. 
Eva joined Oakham in September and juggles training in Ireland and Strength and Conditioning coaching at Oakham. "I took the role at Oakham as I was looking for a new opportunity and challenge, said Eva". "Oakham is a school that promotes and encourages sport of which I am excited to be a part."
Director of Sport Iain Simpson said, "Eva is an inspiration to our pupils and a great role model for sport. We are very proud of her recent success."
Oakham School has a reputation for excellent competitive sport and outstanding coaching. Many teachers have played professionally and are positive sports role models for its pupils, including current players Oakham's Director of Netball, Lauren Nicholls, a superleague champion and PE Teacher Katie Long, who plays for Leicester Hockey Club.