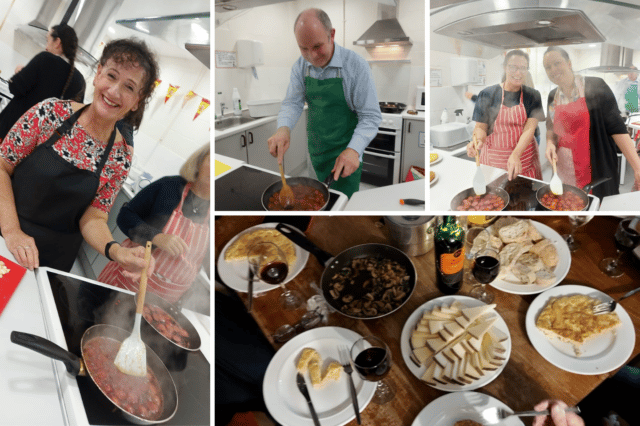 Teacher of Spanish, Monica Fernandez, recently ran a cooking event teaching staff how to make authentic Spanish tapas as part of the employee wellbeing activities. The money raised from the event will go to the Brain Tumour Charity, the largest dedicated funder of research into brain tumours globally.
The lesson took place in the school kitchen, and Oakham employees learned to cook Spanish tortillas, 'chorizo al vino' (chorizo with red wine) and 'gambas al-pil-pil'. Whilst cooking the dishes, they also talked about the history of tapas and Spanish culture.
At the end of the lesson, each chef invited a friend, and the group enjoyed sharing their delicious food together in the "Odd House".
Housemistress of Hambleton House, Sarah Angove, said,  "It was a wonderful evening of laughter, cooking fabulous food and music – a perfect antidote to a damp November and a great way to spend time with colleagues and learn some new skills!"
The next staff event will be the 'lamp shade making' workshop on the 29th November followed by the 'Christmas wreath making' workshop on 6 December, where staff will be getting into the Christmas spirit by making their own handmade festive wreaths.