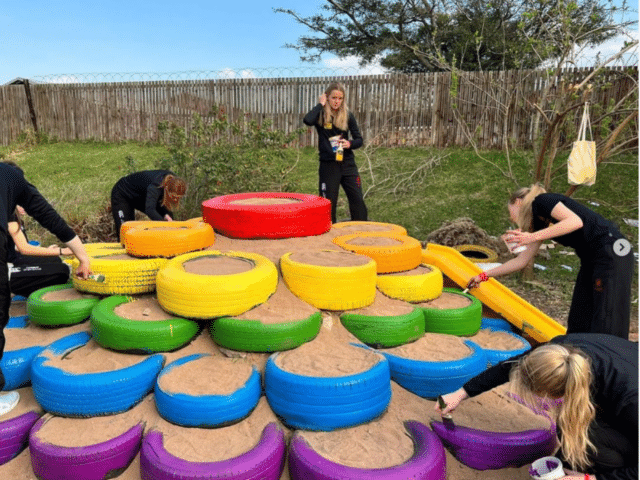 Along with planning and hosting a fundraising event called 'The Boks Bash' prior to the trip, four of the five Oakham School's trips to South Africa visited and worked closely with LIV Village.
LIV Village's Story
LIV Village began in 1997 when Tich Smith birthed a vision to build a village for orphan and vulnerable children where they will have a home with a mother who loves them, food to eat, a school to educate them and where they will come to know god as their father in heaven.
On top of this, Tich dreamed of creating jobs for individuals in the surrounding communities allowing them to earn an income and, in turn, look after their families.
Pursuing this dream over 20+ years, Tich and his wife Joan have worked relentlessly and have made significant leaps forward. Now with locations in Durban, Thokomala, Lukhanyiso and Lanseria with their most recent location in Cape Town, opening its doors in April 2023.
This impressive expansion has allowed for LIV to have a greater positive impact on local communities across a wider range of South Africa.
This large expansion proves the huge positive impact that LIV is having upon these local communities.
Due to the large number of mouths to feed, LIV focuses on sustainability through the introduction of an organic fruit and vegetable garden to grow nutritious food. With this, gardening has also been integrated into their curriculum giving the LIV Village students a diverse range of skills and knowledge to utilise throughout the future.
Oakham School's Trip
Oakham School has had a long standing relationship with LIV Village with OO's being known to go and participate in volunteering gap years with them.
During these Oakham School tours, pupils helped with the construction of a new playground and football pitch (composting, levelling, seeding and watering grass) whilst also having a more intimate engagement with the LIV village pupils. Activities such as touch rugby, netball, fun relay races and other games within PE lessons throughout the week gave both sets of pupils the chance to enjoy and learn from their moments together.
Overall The School's fundraising was a huge success achieving a £10,000 donation along with 150 warm waterproof coats for the children.