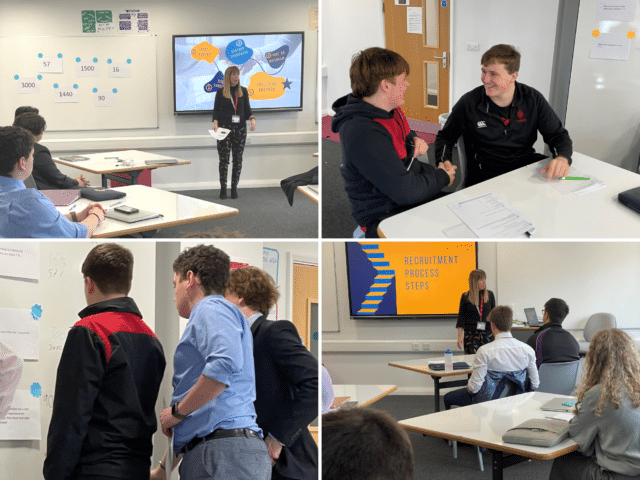 Oakham's Form 7 BTEC Business students were treated to a visit by the Head of Recruitment, Katey Capper and Group HR Director, Susan Martindale, from the UK hospitality company Mitchell and Butlers (M&B) as part of their Recruitment and Selection Process coursework unit. M&B is a business that oversees well-known brands such as Miller and Carter, Toby Carvery and All-Bar-One.
Katey and Susan spoke to the pupils about the recruitment landscape for M&B, including the importance of building an important set of values. They chatted about the impact that Covid has had on staffing levels and subsequent labour requirements. Katey asked students to work through some recruitment statistics and identify the 'do's' and 'don'ts' of interview practice by watching an M&B interview training video.
Linking specifically to their unit of coursework, Katey talked through the stages of the recruitment process at M&B and the W-A-S-P (Welcome, Ask, Supply, Part) method that is utilised during the interview process.  One of the key elements shared in the presentation was the importance of securing a positive brand image and showing care for prospective employees, where every decision leads to business success.
Head of Business, Sarah Donlevy, said, "This visit was an excellent opportunity for our students. They were given top tips for their future career aspirations and considerations about non-verbal skills, which they will be applying to their coursework assignment."
"The group took part in some practice interviews to develop their experience from both the perspective of the interviewer and interviewee, enabling them to prepare for their upcoming assessed interview role plays as part of their coursework unit.  It was great to hear one person ask with enthusiasm, 'Did I get the job?'"
Sarah continues, "Today's session has been the perfect opportunity for our students to apply the theory that they have learned to a real business context in preparation for their assessed assignment, which is everything that the BTEC stands for."
Oakham School's Teachers of Business draw on many different real-world examples in their teaching, using a variety of resources to enliven and demonstrate the subject. On Monday, the department saw international university student Basit Nayani giving a talk to Form 6 pupils on studying Business at Rotterdam University.