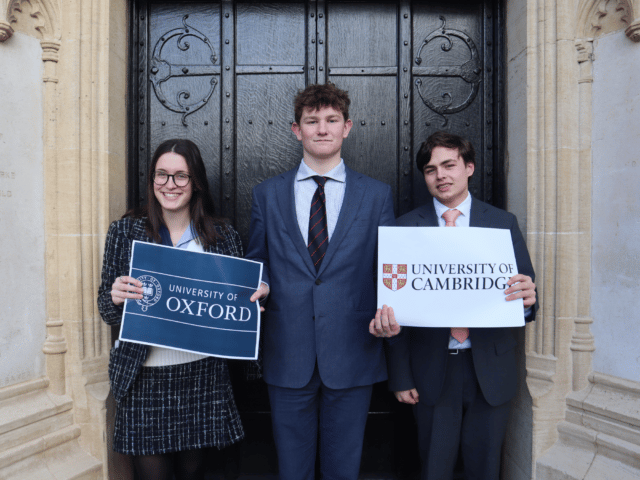 Three Oakham School pupils – Hattie, George B and George N – have all received offers to study at Oxbridge following a successful application process.
As part of their preparation, the pupils took part in regular meetings with Dr Sheppard, Senior Academic Mentor, and subject specialists, spent many hours honing their personal statements and reading around their subjects, and participated in multiple practice interviews.
Dr Sheppard said: "This is wonderful news for the successful candidates. In an ever more competitive environment, such offers are significant achievements and the reflection of the progress these three students have made not only in recent months but over the five or seven years that they've been academic scholars at Oakham."
Oakham School caught up with all of the successful applicants to talk about their success, their time at Oakham and their hopes for the future.
Hattie: French and Arabic – Oxford
Hattie was the first Oakhamian to pass the Business Language course DELF (Diplome d'Etudes en Langue Francaise) at Oakham School and is excited to read French and Arabic at Oxford.
She said: "I chose to apply for Oxford because not only did I want my competence in these languages to be excellent through top quality teaching, but Oxbridge courses are also far more heavily focused on literature than other universities, which is an aspect of languages I particularly enjoy."
"I was absolutely delighted to be accepted – it was a huge relief given the amount of effort I'd put into the application."
George B: Economics – Cambridge
Reflecting on his offer, George B said: "It has always been my dream to go to Cambridge and the course offered is one that I believe will be really suited to me and my strengths."
"My course is economics, in which I have compulsory micro and macroeconomics modules every year. Maths and statistics have always been a great passion of mine, and being able to apply it to real world examples in economics is something I have a great interest in."
Whilst George initially didn't think his interview had gone as well as it could have, he was delighted to receive the good news and called his parents immediately.
Reflecting on his time at Oakham, he said: "I have been very fortunate to have some great tutors over the years. My current tutor Mr Vandoros has been brilliant in supporting me through my application. Dr Sheppard has been a great influence for me over the years through the scholars' society and has always been there if I ever needed academic advice."
George N: History and Politics – Cambridge
George N said: "I was attracted to the History and Politics course because it's slightly more flexible than a pure history course and allows me to focus more on my preferred areas of the subjects respectively."
"I think I was lucky that I had such great Oxbridge supervisors at Oakham School. I had great support from Mrs Knightbraid, Mr Sanders, and Dr Sheppard in preparing me for stimulus interviews and writing the personal statement; as well as great motivational support from my tutor Mr Vandoros."
On finding out about his successful news, George had a funny and memorable experience. "I was genuinely buying a sausage roll at the time I found out, so I didn't want to particularly embarrass myself in a bakery. Ultimately, I was really excited to hear that I'd been accepted, as it's not an easy offer to get, however I still need to focus on getting the required points."
Oakham School's Careers Department provides guidance and support to countless Oakhamians every year, as they navigate their way through the university application process.