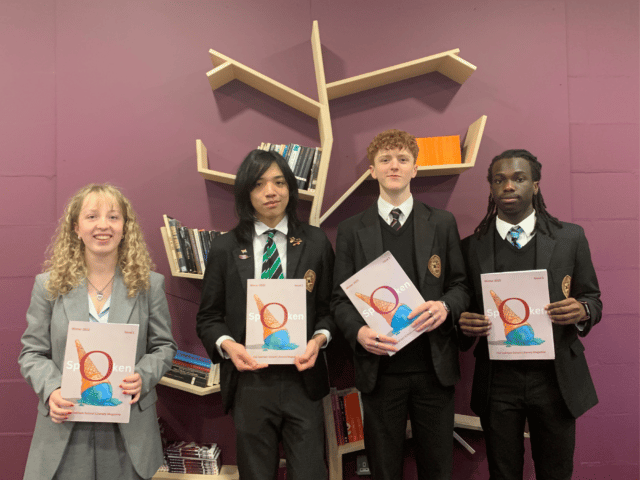 Oakham School pupils have produced a new literary magazine to showcase the abundance of creative writing talent within the School.
The first issue of SpOken magazine is out now and contains a wealth of poems and short stories submitted by pupils from all year groups. Readers of the pupil literary magazine will find themselves transported to many different locations – from Tudor London in the chill of midwinter to a dangerous liaison in the ballroom of a dystopian world, via a bird's-eye view of a fantastical country landscape. They will also discover short stories and poems reflecting on a wide variety of themes, including home, adolescence, climate change, and war.
The first of three issues planned for this academic year, SpOken magazine is the brainchild of Second in English Dr Emma Reddy. Emma said, "I felt that there was a real need for a literary pupil-led magazine, where the writing, design and editing were all done by pupils."
"Our aim is to be a very inclusive publication, where we welcome all types of writing, and it has been great to see the level of interest and talent shown by our pupils. In particular, we have been really impressed by the sophistication of the pupils' writing."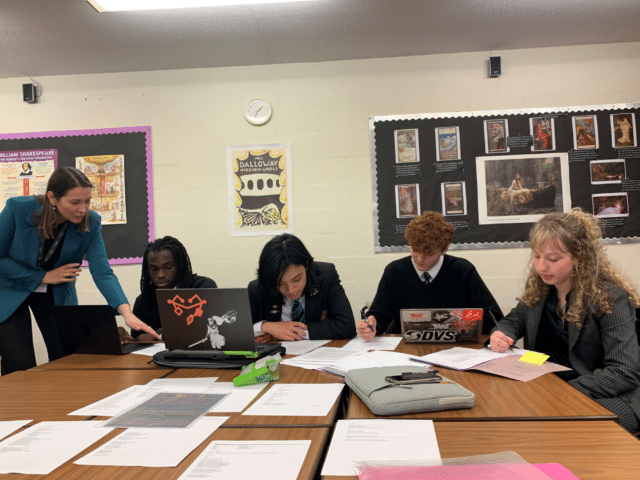 Meeting every Friday afternoon, the pupil editorial team, consisting of Seventh Former Annalise and Sixth Formers Lucas, Theo and Zeme, have worked together with Emma to create the new magazine. Each pupil has been responsible for different aspects of its creation, from designing the cover to editing and proofreading the poems and stories that pupils have submitted.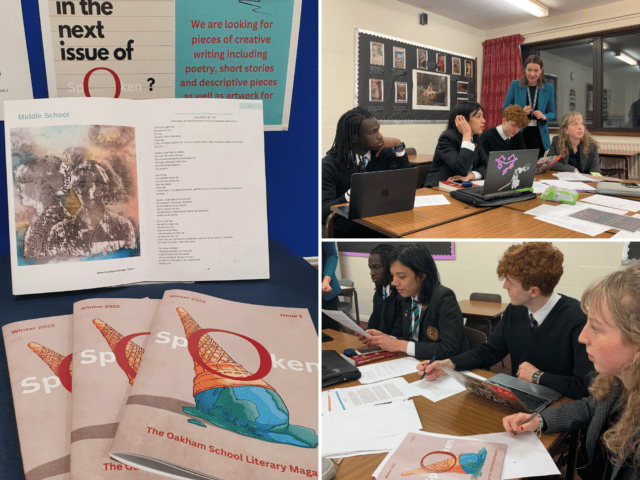 Annalise, who designed the cover, said: "I chose this particular image due to its representation of climate change, which was a popular theme for our Lower school writers. I felt that its message was relevant to today's world and the issues facing our generation."
"We want the cover image to inspire debate and discussion as much as the poems and stories within the magazine."
"The title of the magazine was inspired by the idea that each issue of the magazine will contain fresh new writing to reflect the spoken word, with the sound of the iconic Oakham 'O' to complement the School's branding." Associate Editor Theo explained.
Reflecting on his experience of putting together this issue, Deputy Editor Lucas said: "I'm very interested in writing and wanted to gain experience of editing and proof reading. Working on SpOken has surpassed all my expectations already."
For each edition the team will award prizes for the most impressive submissions – the winners will be announced at the end of term assembly for each section of the School.
Editor-in-Chief Emma enlisted the help of the Marketing Department to put together this inaugural edition. "We are very grateful to our colleagues in the Marketing Department and Print Services who lent us their wise guidance and advice in regard to the design of the magazine." Emma said.
The team are now looking ahead to the next issue and have already received a rich array of compositions. Deputy Editor Zeme said: "We are keen to showcase the work of all year groups in each issue, so if you would like to see your work included in a future magazine, please email Dr Reddy at eer@oakham.rutland.sch.uk"