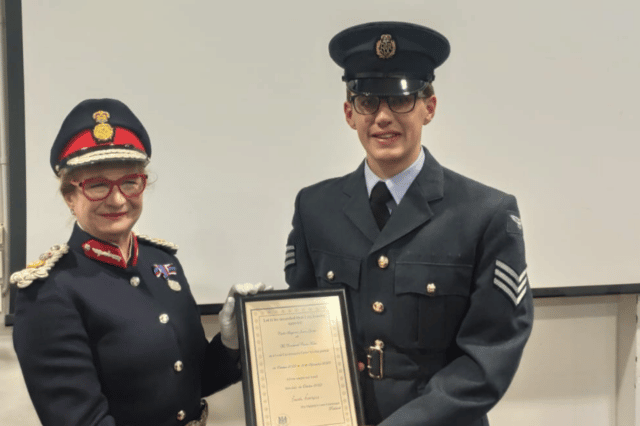 Well done to Form 7 student and senior RAF cadet in the Contingent James, who has been invested as one of the three Lord Lieutenant's Cadets for Rutland for 2022-2023.  The post will see James undertaking his duties in support of the Lord Lieutenant across the county during his final year of school.
James, who has been a member of the CCF for over three years, said "I was honoured to be selected for the role of Lord Lieutenant's Cadet and look forward to attending events throughout the following year, representing both the school and the wider Combined Cadet Force to the general public."
James joined the RAF section in the School's CCF in order to do something completely different and to have the experience of flying. During his time with the CCF he has had the opportunity to carry out field exercises, attend RAF camps, shoot, and undergo adventurous training, as well as complete his Gold DofE expedition in Norway this summer following the route of the 'Heroes of Telemark'.
James was recommended for the position for being a good role model for young people and for going above and beyond in his duties over the last few years.
Contingent Commander Captain Duncan Wright said, "We are proud of James. It is a fantastic achievement to be selected to be a Lord Lieutenant's Cadet, and I am sure he will enjoy his year as he works with two other community cadets to represent the cadet movement at a variety of public events. He follows in the footsteps of fellow Army section cadet Alex who was Lord Lieutenant's cadet last year. My thanks go to Flt Lt Kevin Townsley, OIC RAF Section, who has helped to develop James' skills since he joined."