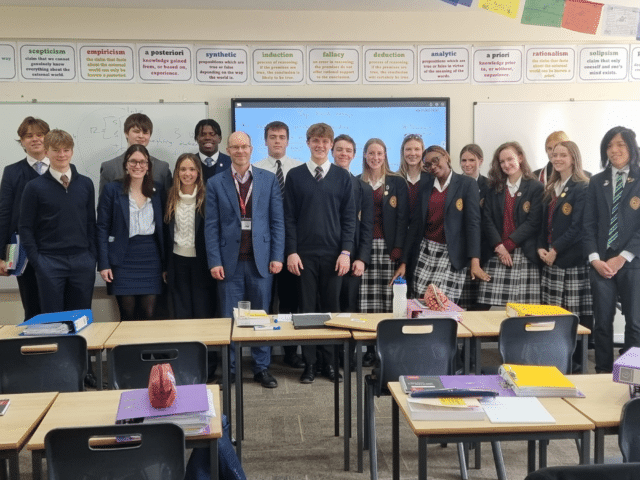 A-level Philosophy students were treated to a morning with Dr Michael Lacewing, a former lecturer from the University of London, and is now Head of Religion & Philosophy at Christ's Hospital School. Michael also writes the core textbook for the AQA Philosophy course, and has been instrumental in the course's creation and development.
They all looked at metaethics, physicalism and philosophical evaluation to complement their A-level studies. Form 7 pupils spent the first part of the morning getting to grips with questions such as 'what does it mean to say that an action is good?' and 'are mental states identical to brain states?', before being joined by Form 6 to hone the argument and analysis skills, which are an important part of philosophical enquiry.
"Feedback on the morning's events has been very positive indeed' says Dr Darren Sheppard, teacher of Philosophy, "Students eagerly seized the opportunity to question Dr Lacewing on key topics in the syllabus as well as the finer points of exam technique through the consideration of model answers."
In the Upper School (Sixth Form), Oakham's Religion and Philosophy Department offers separate A-level Philosophy and Religion and Philosophy courses, and Philosophy in the IB Diploma.