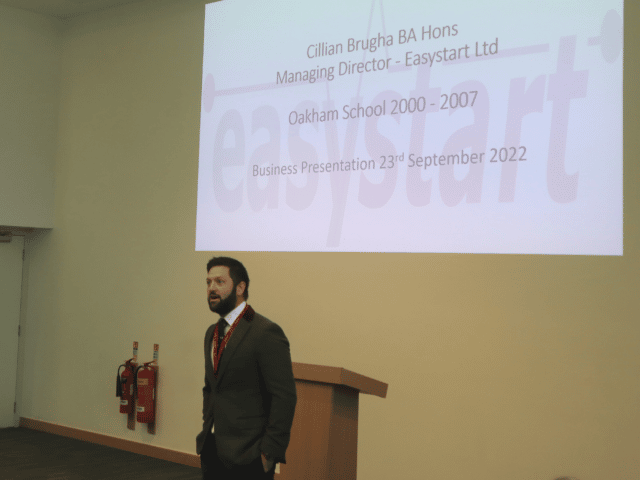 Former pupil Cillian Brugha ('07) returned to the School recently to give an Introduction to Business talk to a group of Form 6 Business students as they begin their journey through the A-Level or BTEC Business Programmes.
In the talk, held in the Wilson Auditorium, Cillian discussed every aspect of his business, Easystart Batteries Ltd., a small family business based in Corby, of which he is the Managing Director. Cillian joined the company in 2015 as Sales & Marketing Manager, having worked previously at London Irish Rugby Club and Reading Football Club after he finished his Marketing degree at the University of Liverpool.
Cillian answered questions from the group and provided examples of their supply chain, distribution networks and finances. Cillian's tenure as Managing Director began shortly before COVID struck in 2020, and he discussed the difficulties of managing a business through lockdowns, global supply chain issues and worldwide market chaos, as well as how their business has evolved, both since its founding 1996 and in the years after Brexit and COVID.
Cillian was joined by his wife Katie for the talk, who also works at Easystart, and together they provided the budding young entrepreneurs with advice and a real-world example of a small business and all it entails.