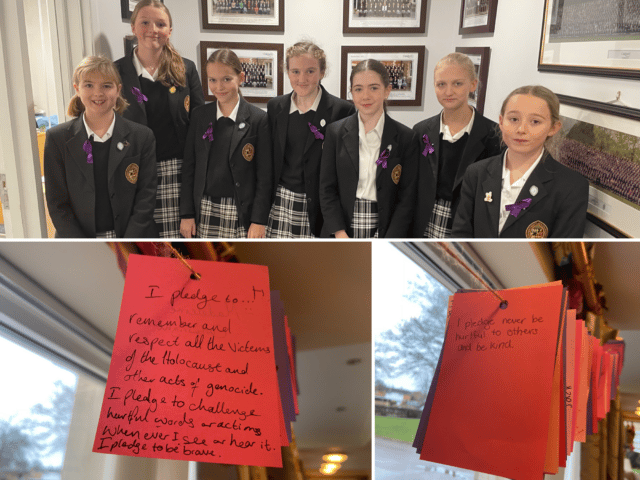 Oakham School commemorated Holocaust Memorial Day (HMD) last week with thought-provoking assemblies, tutorials and activities, ensuring that lessons learnt from the Holocaust are passed on through the generations.
Pupils learned why it is important to recognise the day and the genocides that followed in Cambodia, Rwanda, Bosnia and Darfur.
The theme of this year's Holocaust Memorial Day was "Ordinary People". Assemblies focused on how everyone plays a bigger part than they might imagine in challenging prejudice today and applying Oakham's core values of Courage, Care and Connection.
Lower School pupils were asked to make a pledge to work towards a world without genocide, racism or hatred. They wrote their pledges on tags that they hung up in Lower School Reception. Lower School pupils and staff also wore a purple ribbon honouring victims of the Holocaust.
Other activities in which pupils participated included Lower 1 watching a short video learning about the story of Anne Frank, and boarders lighting a candle to represent the light in the darkness.
Carly Latham, Assistant Head Pastoral, said, "Each year, we aim to mark the day with a range of thought-provoking activities to raise pupils' awareness of the atrocities that took place. We encourage discussion about prejudice and discrimination, hoping that our pupils will go on to build a more compassionate and tolerant society."
In previous years Oakham School pupils have been honoured to listen to holocaust survivor Zigi Shipper share his story and ask him questions about his experience. Staff and pupils were saddened to learn of his death earlier this month.