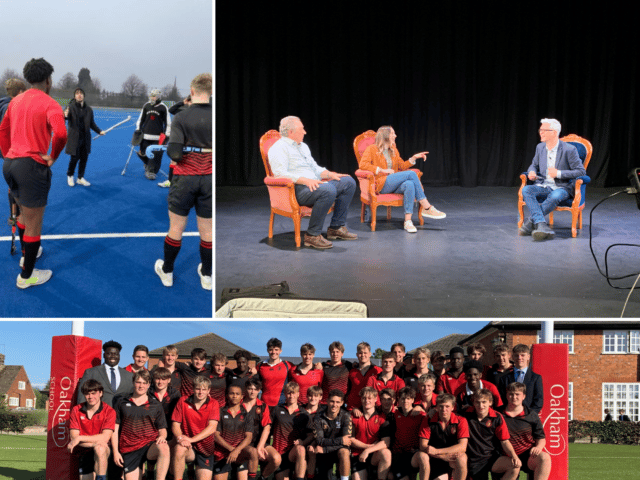 Oakham School has welcomed some familiar faces on campus over the past year. From inspiring pupil talks to sporting masterclasses, not to mention a spot of competition judging and an outstanding concert Oakham Alumni have been sharing their knowledge and talents with current pupils. Information about their visits can also be found in the latest edition of the Oakhamian Magazine.
Pupil Talks
In September 2022, business owner Cillian Brugha ('07) gave an Introduction to Business talk to a group of Form 6 Business students as they began their journey through the A-level or BTEC Business Programmes.
In December 2021 Gina Tyler ('21) spoke to linguists about studying languages at university. She was followed by Charlotte Wilson ('20) in September 2022, who spoke about the improved skills and employability provided by studying a language to a high level.
Oakham Talks
Old Oakhamians from the world of stage and screen and the medical community returned to their former school to film two episodes of the lecture series Oakham Talks and talk about issues relating to their field of work. In the first episode 'A Peek Behind the Curtain', former pupils Richard Hope ('71) and Sarah Moss ('04) talk to Old Oakhamian President David Gilman ('89) about their time at Oakham School and subsequent careers in the world of TV and theatre.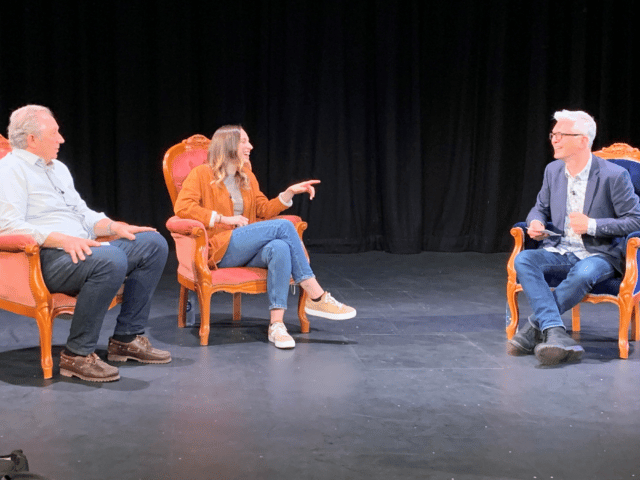 In the second episode , 'Medicine and Me' Old Oakhamians Dr Navin Leanage ('07), Surgeon Lt Issy Guy ('14), and medical students Adrian Patenge ('15) and Jemima Ball ('18) share their experiences of working in the world of medicine in conversation with Biology Teacher Dr Andrew Nicoll.
West End Theatre in the Chapel
Katie Hall ('08) returned to Oakham with her fellow West End star, Earl Carpenter (Phantom of the Opera) for a fabulous evening concert on Thursday 22 September in a packed Chapel.
They offered a delighted audience a whistle-stop tour of both songs and stories covering their "life in musicals", blending amusing anecdotes of stage mishaps and audition calamities with first-class performances of famous songs from a wide range of shows, accompanied on the piano by Oakham's Director of Music, Peter Davis.
Inspiring Young Designers
Felicity Milton ('05), currently a Global Senior Director for Adidas, came back to the School to oversee and judge a design competition for prospective pupils (and their parents) in the Design Technology Department.
Sporting Masterclasses
Wasps Rugby player Sam Wolsternholme ('17) came back in the autumn of 2021 to offer some Premiership Rugby coaching to our Rugby teams and Premiership Hockey player Ben Collinson ('21) also returned to deliver a hockey masterclass.
In the Summer Term, Worcestershire batsman Tom Fell ('12) joined the senior cricketers in the nets to offer some coaching on their batting.