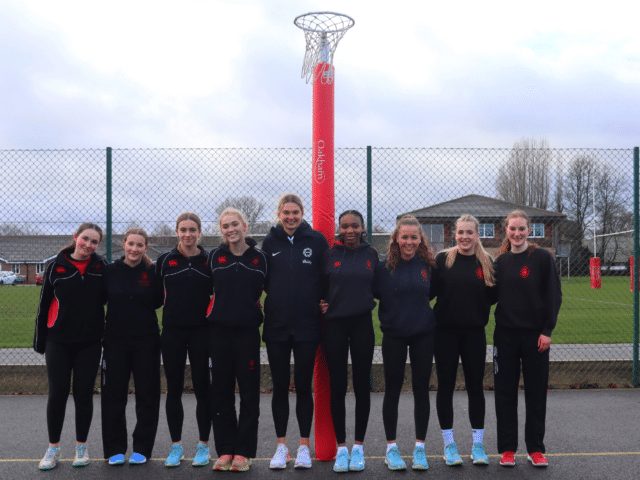 Yesterday Oakham School welcomed England and Loughborough Lightning netball player Emma Thacker, who inspired pupils and shared her expertise during her visit.
A highlight of the day was Emma giving a masterclass to the U19 team ahead of the National Finals next weekend. The session focused on attacking and she spoke to the girls about the shooter's entry into the circle.
Milly B, Captain of the U19 team said, "The girls are all very excited for nationals next weekend. We can't wait to compete against other teams from all over the country and see the results of our hard work in action"
Emma also led an U14/15 coaching class, mainly working on shooting technique and positioning in the circle. They made some excellent improvements as the lesson progressed.
During her visit, Emma took the time to meet with the Lower School pupils, answering their questions, signing autographs and chatting about her experiences as a top international player.
Director of Netball, Lauren Nicholls said, "A huge thank you to Emma for coaching the girls and inspiring the next generation of netballers. Our pupils have taken a lot away from the experience and meeting Emma has been a great boost for everyone, especially the U19 team ahead of he National Finals next weekend."
Oakham's U19 Netball team has made it to the Netball National Schools Finals for seven years running (bar 2021 due to Covid) and the players are fortunate to have this extra opportunity to maximise their potential by meeting an elite netballer before the tournament. Emma Thacker can be seen in action each week with her team Loughborough Lightning in the Netball Superleague'.