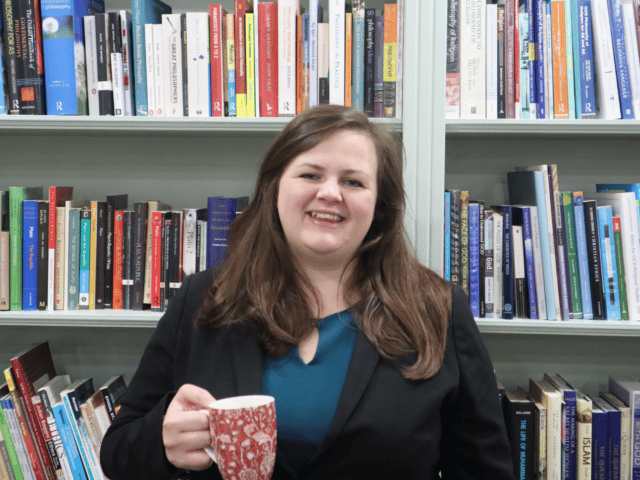 Since January 2022 the Religion and Philosophy Department has seen a new Head of Department at the helm. In the latest edition of The Oakhamian magazine Rosie in Form 6 caught up with Mrs Brett to hear what she had to say about teaching and her plans for the Department.
Why did you want to teach and why Oakham?
It will sound cliched but at school, I had two fantastic Religion and Philosophy (RP) teachers and was inspired by them to go into teaching. I am still in touch with them for advice, and my sister has also trained to be an RP teacher under their mentorship. I have lived in Rutland for seven years now, and when the opportunity to be part of the Oakham School community arose, I knew I wanted to join – the School is innovative and forward-thinking, the RP Department here are excellent, and we have the most interesting and challenging RP curriculum I have taught.
What do you enjoy most about teaching at Oakham?
As ever, the students are the best part of teaching! I have loved getting to know my classes and the fantastic debates in RP and thoughtful conversations are always the highlight of my day.
Have you received the iconic cup of tea from Mr Hutter or Mr Allan yet?
I have indeed! Mr Hutter is particularly generous with the coffee! I am not sure you could be a member of the RP Department at Oakham and not drink copious amounts of coffee…
Do you have a plan for the future of the RP Department?
Any changes?
There are such good foundations in the RP Department, and I hope to continue building engaging and inspiring lessons to keep the students here at Oakham debating and discussing.
Is marking our essays as bad and boring as it seems?
It is not all that bad! I really like seeing students make progress, so I am always looking out for that when marking, and sometimes I am blown away by the clever ideas students come up with!
How many students, on average, choose to study RP, and how would you encourage more students to choose this department?
At GCSE level for RP, we have 45–50 students each year. In the Upper School we have a wide variety of courses: A-level Philosophy, A-level RP, and IB Philosophy. It really varies each year how many students we have in a class, from 6–16 students. I would encourage all inquisitive students o look at what we do in RP and the range of courses on offer; there will be lots of debate and discussion, we look deeply at the most fascinating questions, and there is a huge amount of expertise among the RP staff.
What is your favourite topic to teach, e.g. philosophy, Buddhism?
Every year I love teaching Philosophy of Religion in the RP A-level; it contains so many challenging questions: Does God exist? Are religious experiences illusions of the mind? Do I have a soul? These were the topics that first got me interested in the subject and I love debating them with students.
What do you think are the key characteristics of an Oakhamian teacher?
Caring, passionate about their subject, knowledgeable, collegiate, and hardworking.
If someone wrote a biography about you and your life at Oakham what do you think the title should be?
"Contemplations of a Highly-Caffeinated Teacher".