In our latest instalment of our 'In the Spotlight' series, we chat with Natasja Deacon, Head of Computer Science.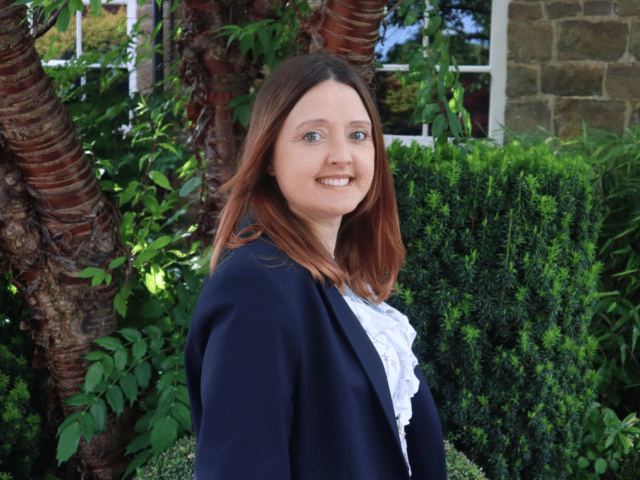 Tell us about yourself
I came to teaching a little later than most, having previously forged a career in Personnel Development in the telecommunications industry. After my children were in school, I made the decision to attend university and retrain as a secondary school teacher. I joined Oakham School a year ago, having previously taught in the State sector. I am an Oakham resident and mother of three delightful children.
What do you like most about your job? 
It is an honour to be a part of a child's learning journey, from walking them through the initial exploration stages where they are exploring new ideas, to the problem-solving stage where I know our team has given them the tools to use computational thinking to reason and solve complex problems. This happens whilst watching their self-esteem grow and develop, and they become more confident with their new skills. I get a genuine buzz from a student achieving that EUREKA moment.
 What is your aim as Head of Computer Science?
As Head of Department, I am aiming to establish Computer Science as a firm choice subject, I am driving to improve students' digital literacy skills as well as their problem-solving ability which will support their cross-curricular learning. Especially in Lower School, our department is equipping students not only with Computer Science skills but also with ICT skills.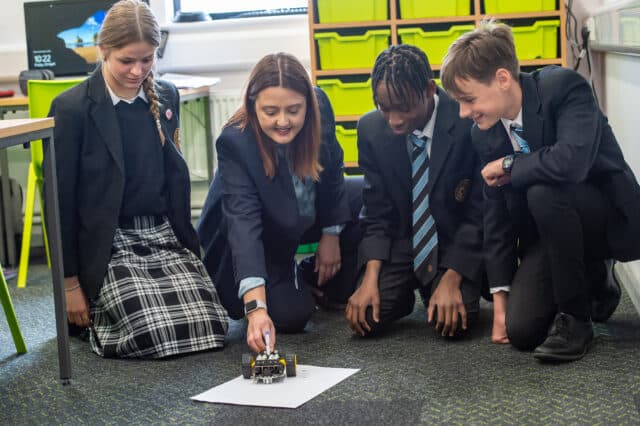 What is something people don't know about you or your department/ role?
The most common misconception is that Computer Science and ICT are the same thing, I always like to describe ICT as being the software that you use and Computer Science as being the design behind that software and hardware that you use. The difference between driving a car and being a mechanic. So, although we offer Computer Science as a GCSE, IB and A-level subject, we are also an accredited BCS ICDL centre, meaning in the Upper School we can offer students the opportunity to gain an additional internationally recognised ICT qualification.
Why is it important for pupils to study Computer Science?
There are several reasons why Computer Science is important:
Increasing demand for computer skills: In today's digital age, computer skills are becoming increasingly important. Studying Computer Science can provide students with the skills and knowledge needed to succeed in a variety of careers.
Understanding Technology: Computer Science provides students with a clearer understanding of how technology works, including hardware, software, and networks. This knowledge will be essential for using technology efficiently in the workplace.
Developing problem-solving skills: Computer Science involves a lot of problem-solving and critical thinking skills. Students learn to break down problems into manageable chunks, apply logical reasoning and develop set algorithms to solve them.
Encouraging Creativity: Computer Science provides students with the opportunity to be creative and innovative. They learn to use technology to develop new ideas and solutions to problems.
Preparing for the future: Technology is constantly evolving, and it is likely that most professions will require some level of digital literacy. Studying Computer Science can prepare students for these changes and ensure they are ready to adapt to new emerging technologies.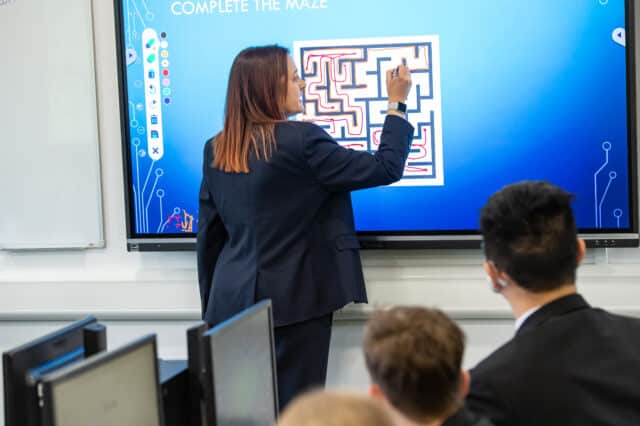 What exciting projects are your department/ pupils working on at the moment?
In the Lower and Middle School, students are working on their IB MYP projects and developing computational solutions to real-world problems. Form 1 students are currently working on a mindfulness device, using their BBC micro: Bits they are looking at their design can aid mindfulness focus. Form 2 and Form 3 students are looking at robotics using BBC micro: Bits and Robo: Bit robots.
Form 2 are considering automated robotics that follow a set path, in a warehouse. Whereas Form 3 are considering robotics used in more challenging locations such as sunken ships or cave rescues. Each group will be taking their product through the full design process from research to evaluation.
Form 6 have recently worked on an interactive program in Java, where they were able to manipulate the movement of balls on the screen, for some this involved incorporating laws of physics to simulate the effects of gravity. The results of this project will soon be displayed on the demo screen in the Computer Science building.