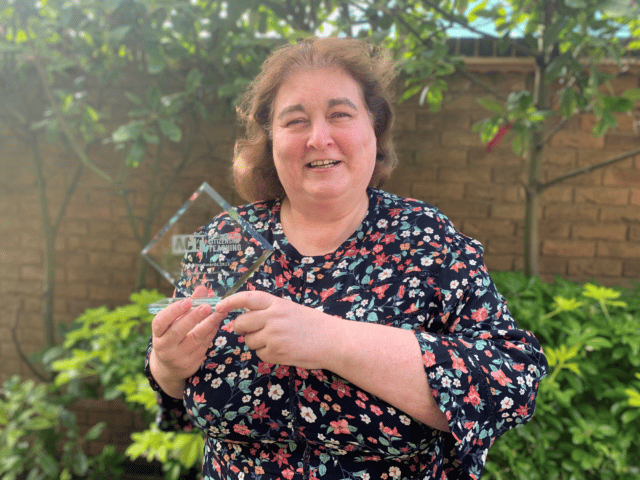 Oakham School's Head of Citizenship Viv Lamb has received a prestigious award for her contribution to the subject after teaching Citizenship since its inception 20 years ago.
At the invitation of Lord Blunkett, a long time supporter of the subject, The Association of Citizenship (ACT) hosted the ceremony in the Houses of Parliament to mark the anniversary.  Nominations had been invited for a range of awards but halfway through the evening five unannounced special awards were made for outstanding contribution with Viv being the only teacher.
Viv said: "I'm very proud to have received this award. There has been a big team effort across the country in creating a Citizenship programme which works for schools, and it's been very exciting to be a part of this."
"It's an honour to be recognised for my contribution to Citizenship.  I firmly believe every child should leave education knowing something of the political and legal systems of the country they live in."
"The GCSE allows students to explore that in more detail – and many enjoy the practical, up to the minute nature of the subject. It also has an emphasis on getting involved in society locally, nationally or internationally to raise awareness or bring about a change by working with decision makers or presenting your case to them."
"Learning to research issues that matter to you; put your arguments together and then stand up and campaign for a change is, for me, an important life skill and one which Oakham School has a long history of involvement with through our belief in contribution to the community."
Pupils have worked with everyone from the School's Senior Management Team to town councillors, the County Council, police, fire service and many charities.
Viv concluded: "As Citizenship continues to evolve and we see technology play a bigger role in how we learn about topical issues, we will always try to keep to the true sentiment of involving ourselves with the community."
"Ultimately, Citizenship is about empowering young people to take their role in society and it's about pupils knowing how to have a voice."