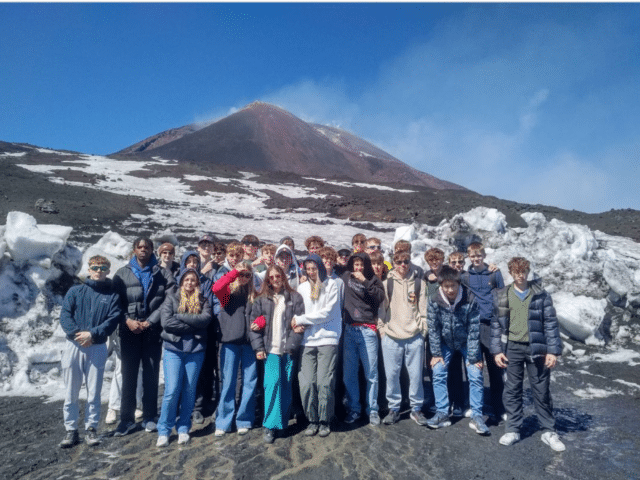 Oakham geographers have been exploring the diverse range of environments and geological features in Sicily, providing them with excellent case studies for their iGCSE course.
Travelling in two groups, they toured the Syracuse Archeological Park before a short but moving Service of Remembrance at the Syracuse War Cemetery for Old Oakhamian Lt Nigel Stickland, killed there in 1943.
They visited some of the lava fields on Mount Etna and then ascended to 2,700m by cable car and 4×4 bus, which offered great views up to the main crater and downwards towards the coast. They travelled to the island of Vulcano, where they ascended the crater on Vulcanello. They toured the lovely Alcantara Gorge and paddled in the river before hitting Taormina to visit the Greek theatre and have a pizza-making session.
Teacher of Geography Daniel Greenfield said, "The trip was a wonderful opportunity for our pupils to experience geography first-hand in a foreign country. The trip helped reinforce what they have learnt in the classroom, especially when standing on the slopes of Mount Etna! They were able to study different environmental and geological features related to the course they studied. They also experienced a new culture, language, and way of life (and many, many ice creams!)"