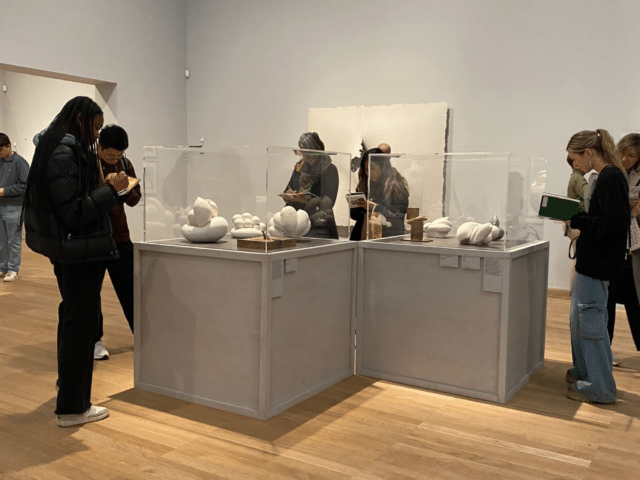 Oakham's Form 7 Art and CCS students recently visited the Tate Modern Art Gallery to help them develop ideas for their Externally Set Assignment. The trip was a chance to create drawings in response to the artworks on show as well as to take photographs and make notes.
They toured two temporary exhibitions at the gallery: Magdalena Abakanowicz's 'Every Tangle of Thread and Rope' and a survey exhibition by sculptor Maria Bartuszova
Director of Art, Elinor Brass said, "We were lucky to visit these two brilliant and very different exhibitions. Bartuszova's work was delicate and it was a beautifully curated exhibition that really emphasised the qualities of the forms. The students did lots of drawings and were able to gather ideas about the processes the artist had used.  Whereas the Abakanowicz exhibition was a knock out show, with large weavings that dominate the spaces.  There were plenty of opportunities for photography and to consider the potential of materials."
The students spent the rest of the day discovering new work amongst the Tate's extensive collection, making drawings and developing ideas to bring back to the classroom.
Art at Oakham offers a rich and varied programme of visiting artists, curators' talks, artists' workshops and frequent visits to museums and galleries.