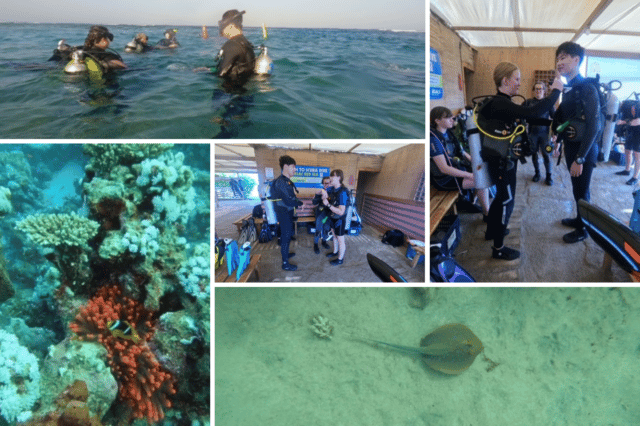 A group of students and staff have travelled to El Quseir in Egypt to enjoy an unforgettable underwater experience. The area around this part of Egypt offers some excellent diving experiences with a wealth of attractive reefs and interesting marine life. Opportunities for outstanding diving experiences are endless. Updates from the trip leader, Mr Vic Russell are posted below.
Day 6
Our last day of diving before the long trip home. Back to the house reef for some of the group whilst Bridget took others to a dive site just up the coast in search of turtles. They were not disappointed!
The afternoon was spent relaxing by (or in) the pool, packing and preparing a sign for display on the beach.
I've just asked the students for one word to describe the trip: "fantastic", "amazing", "eye-opening", "stunning" were the most common.
Everyone has improved over the week and, given where some people were just one year ago, the progress has been truly impressive – we are extremely proud of them for working so hard to get to this point.
So now the question arises: What next? As qualified divers, they are welcome to use the school pool with the dive club to keep their skills up. They can take more advanced courses through the dive club with Dive Rutland and, of course, there will be another trip: same time next year!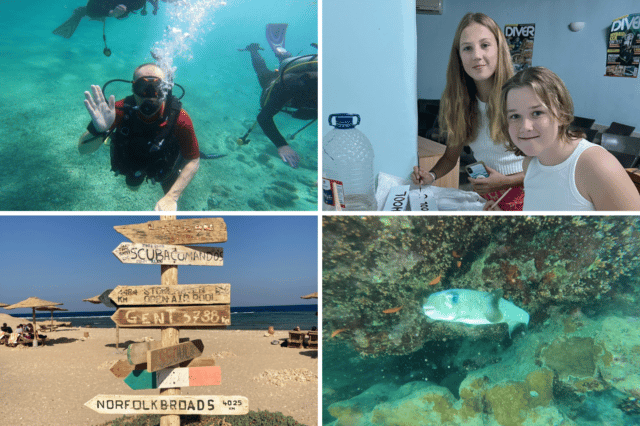 Day 5
The second day of the Open Oceans Survey Course involved learning about the different types of coral to be found in the Red Sea. The conditions at our house reef were not ideal for diving today so we switched dive sites to Serib Qebir which turned out to have an incredible variety of corals. There were some amazing structures and the highlight of the day must have been following swim-throughs between and even under sections of the reef.
After a late lunch we went into the town of El Quseir to take part in a national beach clean-up event designed to raise awareness of pollution prior to COP27 which is happening next month in Sharm El Sheikh. The whole team pitched in with locals and tourists alike to collect a massive amount of rubbish in a very short time. Last day of diving tomorrow – the week has gone so quickly but hopefully we can come back again one day…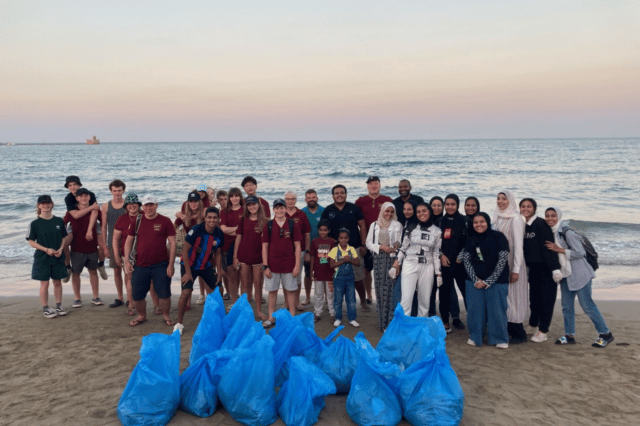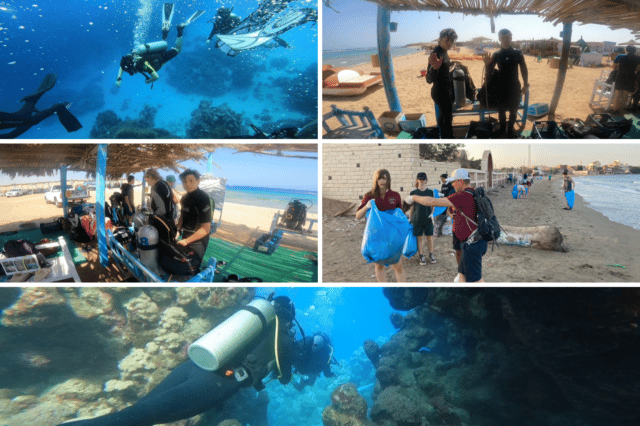 Day 4
Today we started the Open Oceans Survey Course with a session on fish identification followed by a dive to spot particular species. After lunch we learned how to record useful data underwater e.g. the number of each species seen in a given time limit. And then this evening most of the students have learned how to dive with enriched air – one step towards their Advanced Open Water qualification.
Supper tonight was some delicious fish but even with this morning's course no one was quite sure what sort!
Coral ID and conservation techniques tomorrow.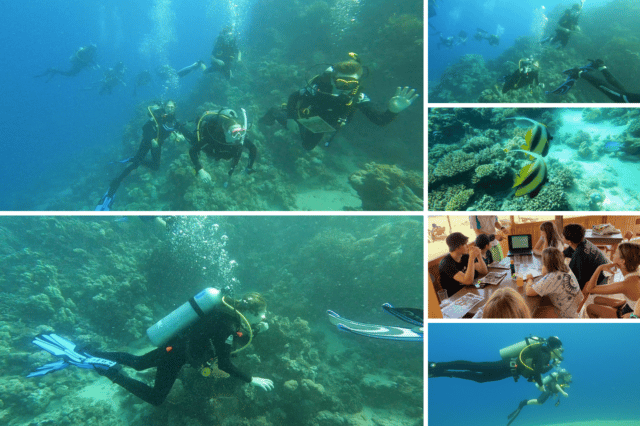 Day 3
After two dives this morning I am happy to report that all the students on the dive trip are now qualified to at least junior Open Water standard. Well done to everyone – they have worked hard for this!
We had a further dive this afternoon to build experience and confidence and some of the students have taken up the fantastic opportunity to do a night dive this evening. We will finish the night with a barbecue on the beach.
Tomorrow we will start the coral conservation and fish/invertebrate identification course.
All going swimmingly so far!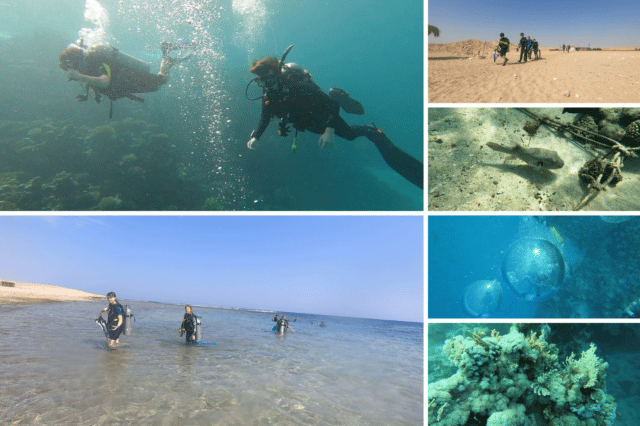 Day 2
What a fantastic day! We had an early start and everyone managed to get two dives in today. The unqualified divers worked through a large number of skills and are very close to completing their Open Water Award. The qualified divers demonstrated their skills and are progressing well, gaining valuable experience. Everyone will be diving together tomorrow.
A busy day finished off with a birthday celebration for both Cadyn and Tracey.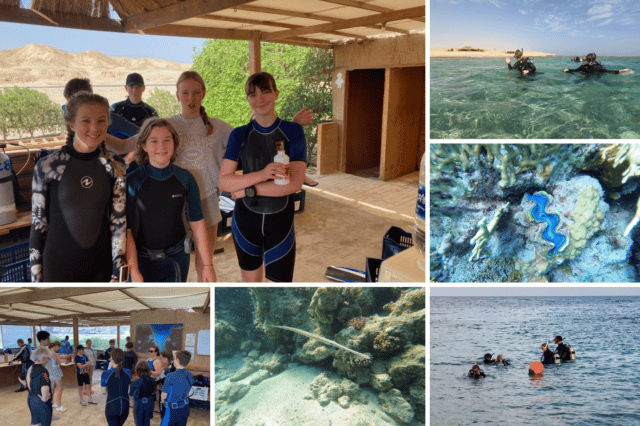 Day 1
"The journey from Britain to the resort was long and arduous but we eventually made it and happily flopped into our beds on arrival. We were up early this morning for safety briefings and kit allocation and then it was down to the beach for the day. Everyone managed to complete one dive today – it would have been more but there was a strong tidal current around lunchtime. Highlights of the day, a hawksbill turtle, lionfish, a large pufferfish, an octopus and a blue-spotted stingray. A good day!"