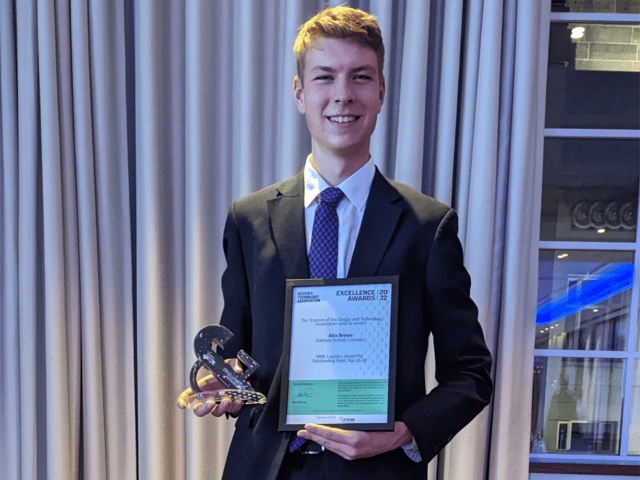 Oakham School pupil Alex Brown recently received a prestigious Design and Technology Association Excellence Award for his innovative A-level Electronics and DT projects.
Alex, who recently left the School to pursue a degree in Electronic Engineering, was given the HME Logistics award for 'Outstanding Pupil aged 16-18' for his exceptional contribution to Design Technology.
The projects which were recognised included designing a car control system in Electronics and mechanising a small sailboat in DT which made sailing accessible to all, regardless of their mobility.
The event was the 22nd awards ceremony and is an annual dinner event held at The Institution of Engineering and Technology, situated on the banks of the Thames in London.
The Design and Technology Association Excellence Awards started in 1999 by the Design and Technology Association Trustees. The Awards recognise the commitment and achievements of teachers, teacher trainers, education consultants and academics across primary and secondary schools and further and higher education. Nominated and voted for by their colleagues or tutors, the Design and Technology Association's Excellence Awards is open to our members and non-members nationally and internationally.
Tony Ryan, CEO of the Design and Technology Association, recognised Alex Brown achievement, saying: "Alex Brown is to be congratulated on his well-deserved award and celebrated for going above and beyond what might be expected in his contributions in the DT classroom."
"We need more students like Alex Brown to continue to be inspired by DT and potentially take it further in their education and career. He is passionate, motivated and I wish him every success in the future."
Alex added: "I'm honoured to have won such a prestigious award. It means a great deal to have my last two years of hard work and effort recognised, and it also goes to show the quality of the teaching I received throughout my A-levels."
The Awards' night, which was in partnership with The Institution of Engineering and Technology, saw presentations made under 12 categories, with winners from different parts of the country.