Dr Matthew Myers gives talk to Classical Civilisation pupils
14th November 2022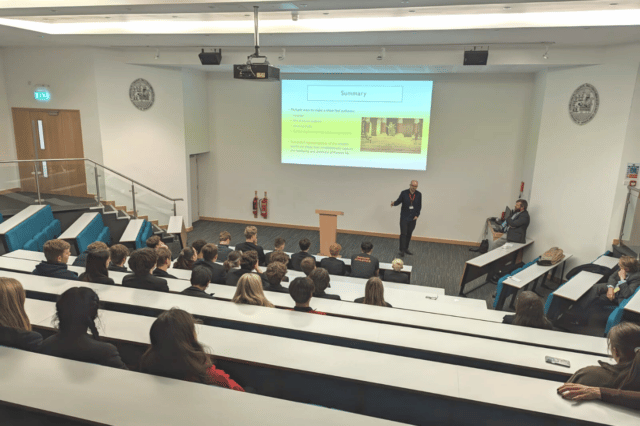 Last week Dr Matthew Myers from the University of Nottingham came to speak to GCSE and A-Level Classical Civilisation pupils about how Rome is represented in film and television.
Matthew, who has recently undertaken historical consultancy for Plebs, spoke about the challenges of representing Romans in a way which is accurate but also familiar to audiences.
Form 4 pupil Max said that he liked "the way he talked about how TV producers must tread a fine line between actual historical accuracy and what the viewer has already seen in other shows".
Lena, in Form 5, said, "It was a thought-provoking and inspiring take on Classical Civilisation and how it can be brought to life in the modern world – it was also really entertaining!"
Dr Myers talked about several different films and TV programmes, including the current Netflix series Barbarians and the older HBO Rome. Despite the latter being rather gory, Rosie in Form 7 added that she "will definitely be watching Rome".
Head of Classics, Dr Leveritt, said, "A huge thank you to Dr Myers for his talk, which stimulated a lot of discussion in classes."