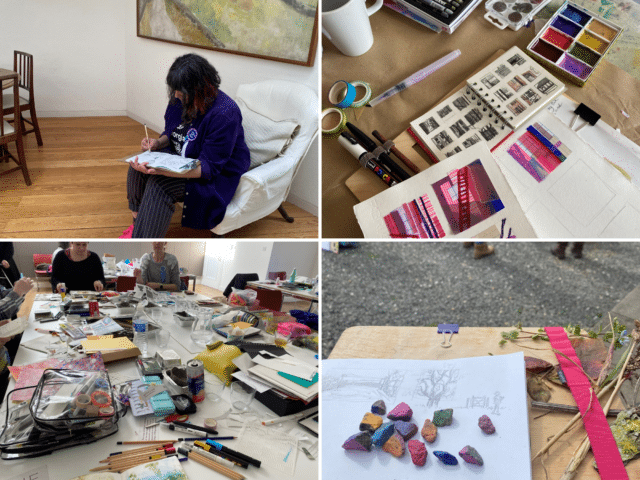 Over the Easter break, Oakham's Director of Art, Elinor Brass, organised a residential course in Cambridge for teachers from all over the country.
The teachers are also members of the popular Sketchbook Circle, a monthly sketchbook exchange between artist educators co-founded by Elinor. The residential offered the attendees the opportunity to build networks, be experimental, and share ideas and experiences.
The first day was spent with an artist at Wysing Art Centre, where they did a workshop called 'Walking Drawing/Drawing Walking' ran by the lead artist Caroline Wendling. Caroline encouraged them to walk as part of the creative process and used the Centre's grounds as well as nearby woodlands to stimulate creativity and imagination.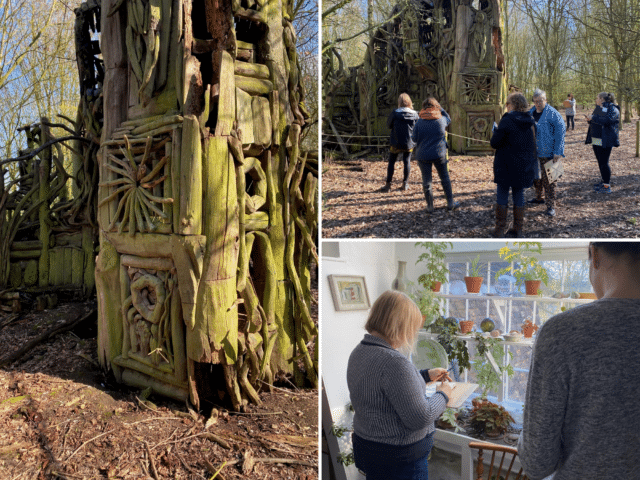 On the second day, the teachers had the privilege of spending time at Kettle's Yard, a beautiful house with a remarkable collection of modern art.
On the final day, they were based at Cambridge Artspace and had a wonderful workshop led by Tansy Hargan, who shared her work and discussed her practice before encouraging them to go out and make drawings in the city.  The teachers then developed work in the studio space creating colourful compositions.
Teachers' comments on the course included:-
"The Sketchbook Circle Easter residential to Cambridge was a much-needed tonic of creativity after a long and busy spring term at school. It's a great way to destress and start the Easter break with some 'me time'.  It was lovely to share ideas, a common love of colour, texture and pattern with other like-minded members of this fantastic group. Our goodie bags of papers, resources and laser-cut circles went down a treat to keep our ideas alive! We had a variety of well-planned activities, including walking around the grounds at Wysing Arts Centre, an amazing visit to Kettle's Yard in Cambridge Centre and a workshop led by Tansy Hargan. It's been lovely since returning to see everyone's sketchbook work continue to evolve via the WhatsApp group we set up for the residential. Would thoroughly recommend these SBC residential breaks."
 "This was my third Sketchbook Circle residential and it is now an essential creative respite for me!  I return feeling nourished and revitalised, bursting with ideas.  I love my Sketchbook Circle family!"
 "Thank you for a lovely few days full of fabulous art, wonderful people and inspiring creativity… so much to take away and respond to.  Sketchbook Circle is so much part of my life."
 "It was wonderful to work alongside such creative and knowledgeable artist teachers.  Fantastic organisation and inspiring workshops.  This was creative nourishment for my practice."
 "These past few fabulous days have been a wonderful tonic and have set me up in healthy spirits to enjoy the rest of the Easter break with creativity at its centre."
 "The Sketchbook Circle residential is my sanctuary and happy place.  Having 3 solid days to be creative is just so amazing."