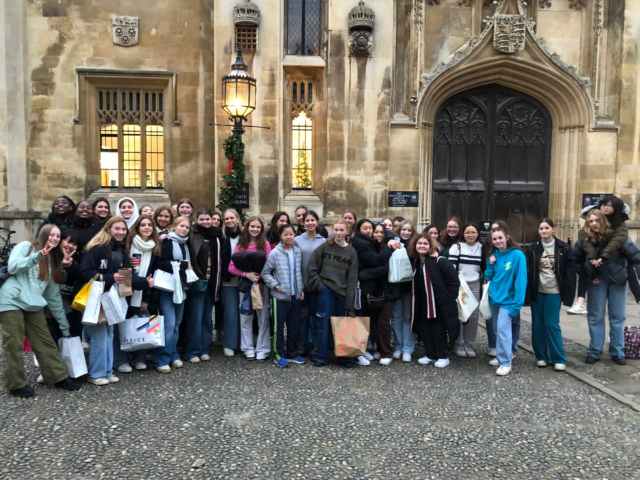 The second half of the Winter Term has seen Oakham School boarders take part in a number of exciting activities with their friends.
Trips included a group day out to trampoline park Gravity, a group walk around Hambleton and a trip to a local escape room. Oakham's youngest Boarders also had a thrilling day out at the indoor theme park, Inflata Nation, where they enjoyed bouncing around on the many inflatable objects.
Lower School boarders have also enjoyed the company of some new residents in their House as Hodge Bears, a group of cuddly teddies, have moved in. The bears helped our Lower School boarders settle in when they joined the School in September and have enjoyed spending time in their new home.
The exciting activities were paired alongside cosy nights in, including 'Hot Chocolate Evenings' in Rushebrookes, pizza and movie evenings and socials for Form 6 pupils in Odd House.
Pupils were also given a chance to spend more time with the other Houses, including Form 4 and Form 5 joint socials and suppers.
Bonfire Night went out with a bang as Boarders across the School spent the evening on the Wilson Fields watching a marvellous fireworks display. The event also featured a large bonfire and tasty treats including hot dogs and hot chocolate.
This term has also seen Buchanans House receive a new kitchen and social space which is being enjoyed by the girls on a regular basis and offers a place to relax and catch up with their friends.
In supporting Oakham's Drama thespians, many of the boarders also had House theatre trips to see the musical spectacular of Into The Woods, as well as supporting musicians by watching the Autumn Concert.
To get into the festive spirit, 160 boarders also recently went to the historic city of Cambridge for a day of culture and Christmas shopping.
Find out more about Boarding at Oakham School.