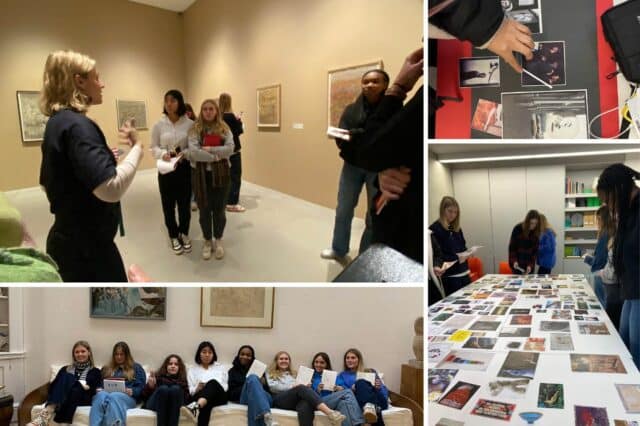 Form 7 Critical and Contextual Studies students visited three contrasting galleries in Cambridge recently to carry out research in support of their coursework project.  The seventh formers met with curators, artists and educators who gave them an insight into how exhibitions come about in the different spaces.
Director of Art Elinor Brass, tells us more:
"The group started off at Wysing Art Centre, a dynamic organisation that has a programme of residencies, events and exhibitions.  Wysing is supportive of practising artists, encouraging experimentation and research. An engaging curator talk helped the students consider how exhibitions are formed and the development of the written materials provided.  They then toured an immersive exhibition, which pushed them to think what an exhibition could be. 
Their next stop was Kettle's Yard which is a modern and contemporary art gallery set in a house once the home of curator Jim Ede and his musician wife Helen.  The gallery demonstrates how art can be curated and encountered in domestic spaces with works by well-known artists such as Henry Moore and Constantin Brancusi.  They continued to work with the gallery's education team to explore a new exhibition entitled 'Paint like the Swallows Sings Calypso' on the subject 'Carnival' by three important first-generation diaspora Caribbean painters. It gave the students an interesting insight into how a historic collection can be a source of inspiration for artists.  The group were then lucky enough to work with an artist who showed them how the Kettle's Yard white cube gallery space has been adapted for different exhibitions, and they put into action their own ideas using printed images of artworks offered by the artist.
Finally, the students had time to visit the Fitzwilliam Museum.  There was an interesting temporary show entitled: 'Defaced! Money, Conflict, Protest' which was an exhibition with very dramatic curation, giving the students plenty of food for thought.
The trip was incredibly beneficial as part of their coursework involves devising a fictional exhibition and considering what work to show and how and where they might show it.  They are also exploring ideas for a public programme and ways to get visitors to connect with the work on display."