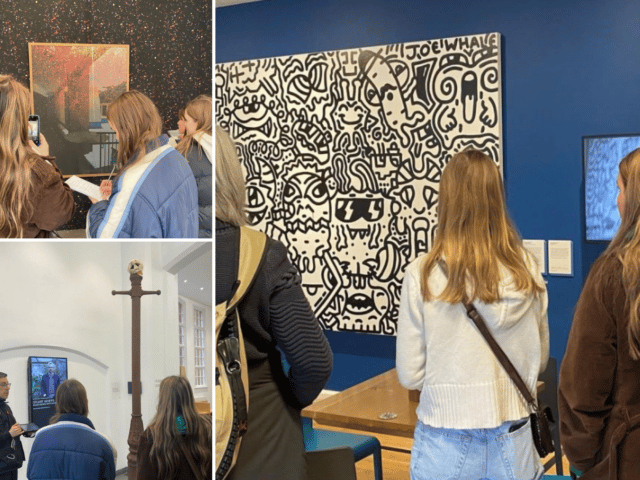 Form 6 Critical and Contextual Studies pupils visited three art spaces in Birmingham to consider the different ways that they display works of art.
Midlands Art Centre
The trip began at the Midlands Art Centre (MAC), which is an arts complex with a mission to make art an important part of people's lives. It has exhibitions of contemporary art, a theatre, cinema, hosts special events and has a programme of workshops and classes. The pupils met with Deb Kermode, Chief Executive and Artistic Director of MAC, who gave an inspiring talk about the way the centre runs as well as some interesting insights into exhibition design, accessibility and public programming. The group also toured an exhibition, which brought together artworks from 'Grayson Art Club', a TV series that started on Channel 4 in lockdown, headed by well-known artist Sir Grayson Perry.  Director of Art and Design Elinor Brass said, "It was interesting to see a 'people's show' in a public gallery and for the pupils to consider some of the challenges and opportunities that this presented."
Barber Institute of Fine Arts
The pupils then headed to the University of Birmingham, where they visited the Barber Institute of Fine Arts. This a purpose-built multi-disciplinary space on the university campus, which hosts a music auditorium, lecture halls, an Art History library and magnificent galleries upstairs. They were lucky enough to have a guided tour of the collection, which contains some exceptional works.
Ikon Gallery
Their final stop was the Ikon Gallery. At the Ikon, they had a tour around the current exhibition: 'Horror in the Modernist Block'. This is an exhibition which presents new and recent work by twenty UK and international contemporary artists exploring the relationship between architectural modernism and horror. The students were inspired by how an old Victorian building had been converted into a contemporary art space and how the curators had used the different spaces to put on a diverse group show.
Elinor said, "These visits were invaluable for the pupils as they are starting to look at how exhibitions are designed as part of their coursework."
Art at Oakham offers a rich and varied programme of visiting artists, curators' talks, artists' workshops and frequent visits to museums and galleries.