Collaborative Sustainable Weave with Oakham's Art Department
05th December 2022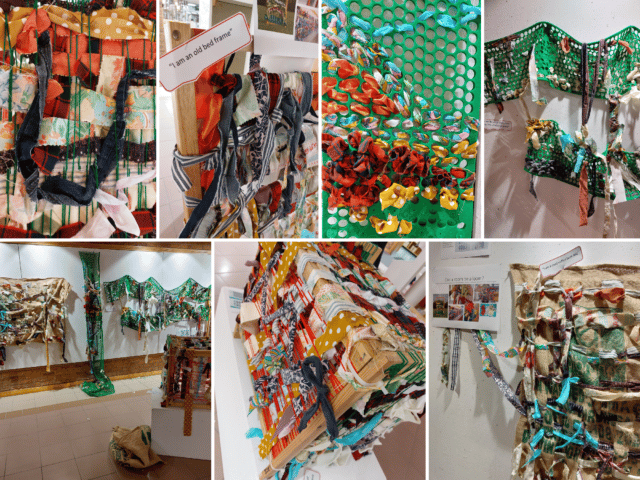 Oakham School pupils and staff participated in a collaborative sustainable weave led by the Art Department, using recycled materials. 
Teacher of Art Hanna Day commented, "Sustainability and recycling is an important part of our department ethos. The old clothes and fabrics that our community dropped off for us to reuse inspired the project, alongside wanting to start an annual Oakham School sustainable art week."
The materials used for the structures included a coffee bean bag, green felt after the production of piano keypads from The Whitworth Gallery and an old bed frame donated by a staff member. There was also a cube created by talented technicians using old printing frames. The strips of fabric were a combination of old materials and donated clothes from staff members. 
Hanna added, "There is something great about collaborative Art projects, seeing how individuals interact with each other on the canvas. It was a lovely opportunity for students and staff to take some time out of their busy Oakham day to give old materials a new purpose."
Other sustainable art activities include Form 2 learning about sustainability and globalisation as part of their Middle Years' Project, where they are using scrap materials to create protest banners that share an important message about the environment. Form 3 pupils are using recycled denim jeans purchased from the charity shop to create little denim jackets for their sketchbook. Elsewhere in the School, Geography pupils are studying the relationship between fast fashion and sustainability, and members of the Decem are starting a Sustainability committee.