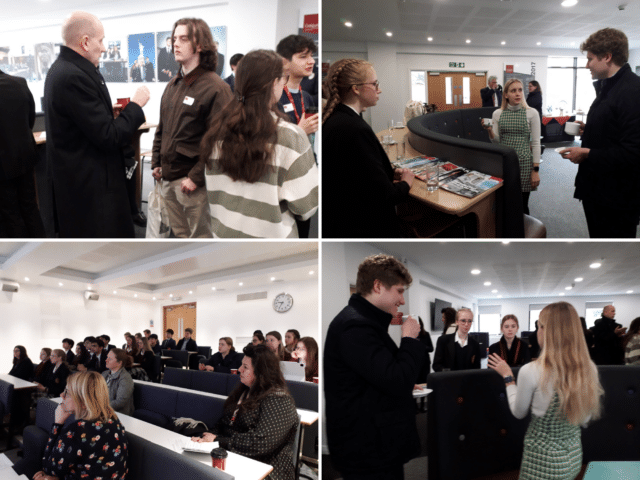 The Clinical Careers Conference 2023 saw Oakham School's sixth formers joined by pupils from other schools for a morning's lectures by external guest speakers. They spoke on subjects relevant to the pupils' future applications to study medicine, veterinary medicine and dentistry at university. 
During the morning pupils also attempted to solve a verbal reasoning problem and participate in a multitasking activity (build an amino acid whilst discussing the problems of Brexit'). They observed a demonstration interview and there was a student panel that comprised of Form 7 / upper sixth applicants from Oakham and Harington Schools.
The external speakers were:
Professor Tom Robinson, Head of the Department of Cardiovascular Sciences and Professor of Stroke Medicine at the University of Leicester

Pro Vice-Chancellor and Dean of Medicine at the University of Leicester, Dr Rachel Williams OO (Cambridge University)
Medical students Ben Dimbleby OO (Birmingham) and Tuesday Healey OO (Leicester)
Local veterinary surgeon Mr Chris Booth
One potential applicant commented that although he had not thought about applying to Leicester University for medicine before the meeting, he was now definitely considering Leicester having heard the Dean's talk.  The Dean also mentioned he had attended an Oakham School 'Medical Congress' in 1981 as an aspiring medic himself.
In a discussion with Prof Robinson, Dr Nicoll, Oakham's Teacher of Biology and DocSoc Organiser pointed out to the audience that although they all agree the country needs to train more doctors, new places at medical school may not be created to match the increasing numbers of secondary school pupils in the short term.  Our thanks to all contributors and visitors. 
The final 'Doc Soc' meeting this term will be a mock UCAT exam.