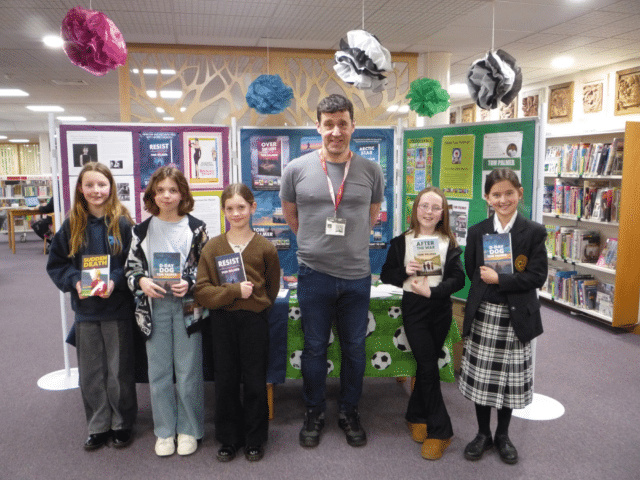 Lower School pupils were delighted to welcome multi-award-winning author Tom Palmer who wrote the three Puffin football series, Football Academy, Foul Play and The Squad. Other popular known titles include Over the Line, Armistice Runner, After the War, D-Day Dog and Arctic Star.
Tom spoke about his books and shared his journey to becoming an author. As most of the school were heading to Twickenham to watch the 1st XV in the Cup Final later that day, he organised a rugby-themed reading game (won by Max, with Elias the runner up) before answering some great questions from the audience and signing books.
After break those pupils who were not going to Twickenham joined Tom in the library for a writing workshop.  Tom had brought in a silk map, a tiny RAF bible, part of a bombshell, and a WWII RAF cap to illustrate how he starts to research and plan his stories.  He went through the process of creating a mind map with the group, and explained how he invests in his characters by making scrapbooks of photographs, maps and other source material.  He invited students to handle the artefacts and to imagine the characters before writing a story of their own.
In the afternoon, 200 pupils visited from local primary schools and Tom spoke to them about how to become a writer, and inspired them to write.
Feedback from the pupils included;
"Really good and very entertaining, especially the rugby!" Aryan F1
"I appreciated the advice he gave about writing your first book" Harry F1
"It was really good because he involved us in his talk." Safi L1
Librarian, Janine Colman, said, "A huge thank you to Tom Palmer. It was a fantastic day and the pupils were engaged and enjoyed the sessions. We are looking forward to seeing some of our pupils' stories in the next edition of SpOken, a literary magazine written by our pupils.