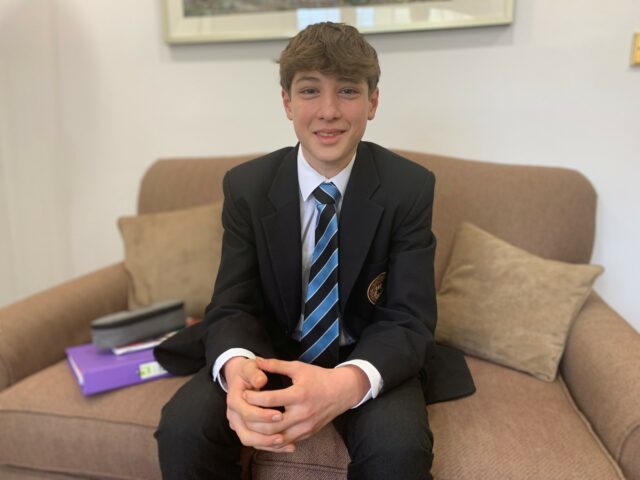 In the latest Boarding Bios interview, Form 4 (Year 10) pupil Askar shares his story of coming to Oakham from Belgium, deciding he wanted to board in the UK.
After joining the School in Form 2 (Year 8), Askar has already tried many new things during his time at Oakham and enjoys the peaceful and rural setting of the School.
Askar and his brother, a Form 5 pupil, both decided they wanted to try boarding.
"My brother and I really liked the concept of a boarding school so wanted to give it a go and when Oakham was recommended to us we knew we wanted to come here."
"It's very good that my brother and I are in the same House because he's always there if I need someone to talk to and it's comforting to know he's close by."
"I'm really grateful that he's here because we can travel back home together and have each other to rely on. Siblings are actually really common in my House which is nice because you can all hang out together."
Whilst Askar wanted to board, he was still apprehensive at first.
"Before I came to Oakham, I thought boarding might be quite scary but it turns out it's not at all and it's quite similar to the international school I was at before." "Everyone here is really inclusive and caring about each other."
At first it was very different adjusting to life at Oakham School.
"I think the House concept here is really cool as there's lots of different people that you can mix with across the campus."
"I like my House the best though because I think we have the most nationalities represented in there and everyone is really friendly."
"I was really homesick the first term that I started here because it was very strange coming to a brand new place and living far away from my parents, but the sooner I got settled in, the more friends I made and the easier things became."
"I now realise that it's just like being at one big sleepover with all of your friends!"
Askar has definitely made himself at home now.
"I've settled in really well here. I find it quite normal to be sleeping in the same place that I go to school and to be living with lots of different people."
"At first I thought that boarding was really different and when I told people in Belgium that I was going to a boarding school they all asked if I'd done something bad which was really funny."
"They thought that I was being sent away because they didn't know much about the boarding lifestyle, but it was actually my choice to come here and wasn't like that at all."
Askar is enjoying the range of choice inside and outside the classroom.
"In Oakham, I realised that there's a huge, huge variety of subjects you can choose from because at my old school you had set, core lessons that you had to do and maybe a couple of extras."
"Here, I have really enjoyed learning more about Philosophy, Citizenship and Classical Civilisation which are subjects I didn't know much about before. I find it really cool that I get to try lots of new things."
"Sport is also a big change for me as that was just done after the school day had finished where I was before, but here it's such a big part of the daily timetable and it really pushes you to be active and find something you enjoy."
"Athletics and Rugby have been really enjoyable for me and I've done sports here that I'd probably only heard of once or twice in my life before!"
"Outside of the classroom I spend a lot of time in my Common Room and also in other people's dorms as we're always hanging out together."
Alongside these activities, Askar is also working towards his Gold Duke of Edinburgh's Award.
"As part of my Service Activity I am currently doing D of E and recently went on a walking expedition at Rutland Water for my Bronze Award."
"The D of E Award gives me a sense of independence because you do a lot of things for yourself like setting up your tent, cooking your own food, and pushing yourself to walk miles and miles with your friends which is really good."
Moving from Belgium, Askar is enjoying the more rural setting of Oakham.
"I really like Oakham as a town and my friends and I walk there quite a lot as it's so close by. Because I moved out of a city, it's a really nice place because it's very peaceful which is a new experience for me."
Askar is looking forward to continuing the friendships he has made here for many years to come.
"I've made some really close friendships in my time here already and they're definitely bonds that will continue long after we have finished School. Oakham really encourages you to find new friends and people who have similar interests as you which means it's really easy to find lifelong friends."
Find out more about Boarding at Oakham School.