As wellbeing continues to be a key focus in today's society, prioritising mental health among children and adults has never been more important.
In recognising this, Director of Art and Design at Oakham School Elinor Brass is exploring the ways in which creativity can help pupils to be more mindful and find the joy in small things.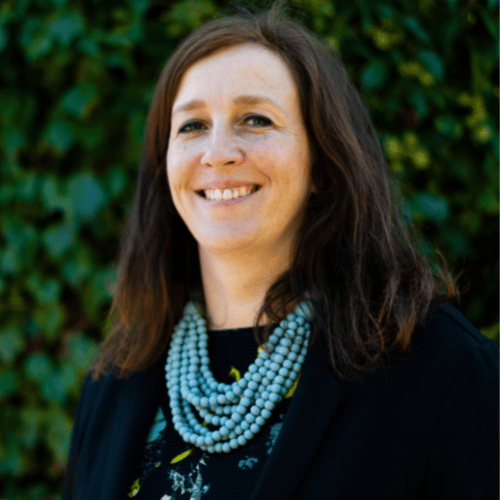 Whilst academic art remains at the cornerstone of the pupils' work at Oakham, creating work through mindfulness and making for pleasure is vital to act as an outlet for those wanting time away from the pressures of day-to-day life.
"Having the chance to be creative is something that I care deeply about," Elinor comments.
"Art as a subject helps students to find their voice and to understand who they are, what they connect with, what they don't. It presents a freedom to explore new things; things that have not been made yet, which is something that rarely happens at school."
Crafting time for mindfulness
As the process of making art can be incredibly meditative, carving out time to be creative can help to clear your head and improve your focus, which can be of huge benefit to our students.
Not only can you lose yourself in your work and not think about anything else when you're creating artwork, but you will have produced something that you can be proud of when you're finished, giving you a great sense of achievement.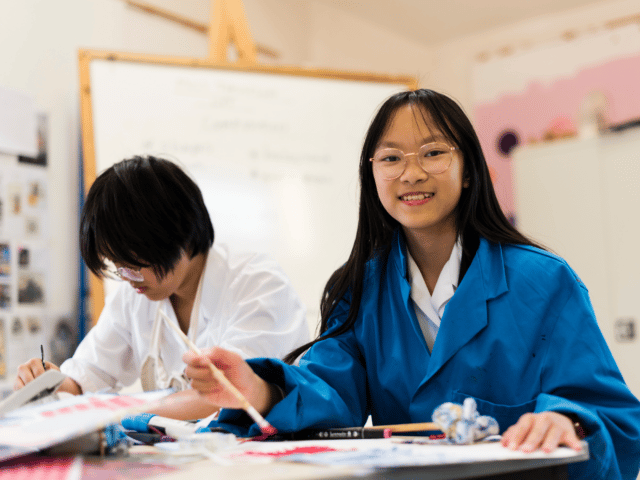 Elinor says: "Art is based on our interpretations of a design, so it can be a great tool where there is no pressure to get something 'perfect'."
"You can practise creative mindfulness through activities such as drawing, writing and taking photos. These can improve your focus by becoming more absorbed and calmer through doing and feeling, rather than just thinking."
"Mindfulness is all about being aware and that deep connection to the world around you is important as an artist. Mindfulness is being present in the moment which is important when creating art. It is a heightened state of awareness where you can slow down and see the beauty all around."
"I think it can be an act of self-compassion to allow time for yourself to do something that is considering your experience in the moment and giving."
Focus is key
Considering the mental health and wellbeing benefits The Arts can bring, having focus and learning to approach things with calmness have become vital in the world of education.
Elinor added: "Having the patience and discipline to create a piece of art serves as a fantastic life skill for pupils to use when approaching any subject as it requires a lot of focus."
"Art gets students to use their hands. They learn to be more dextrous which is vital if we want skilled surgeons."
"It is also a practice of active concentration which helps us become more aware of our thoughts, feelings, sensations, and experiences in the moment which is vital for children as they develop through education."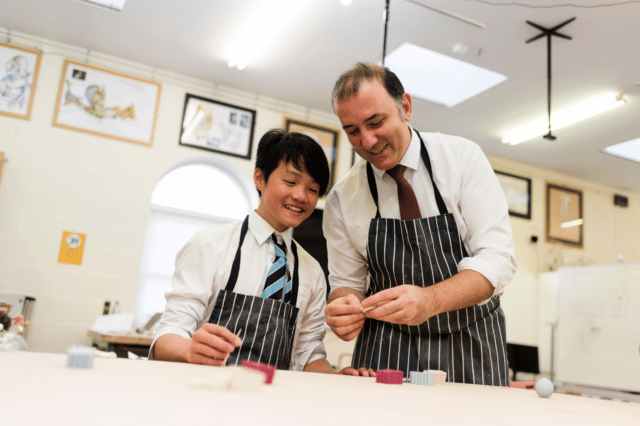 Building communities
Art is also a wonderful tool that helps pupils to develop relationships, express themselves and build communities.
Elinor says: "Students are the power to build an awareness with the world around them whilst connecting with other cultures, different viewpoints and with people who have different histories."
"There are many opportunities to collaborate within the art community and to learn from the work of those around you, making it a fantastic way to broaden your horizons and expand your knowledge."
"Ultimately, art is a vital tool which helps to build communities and is about learning the true value in you and what you do."
Not only has the Art Department been supporting pupils in their journey to become more mindful and relaxed in their work, but they have also hosted several workshops for staff at the School. These have included screen printing, festive wreath making and a resin jewellery workshop.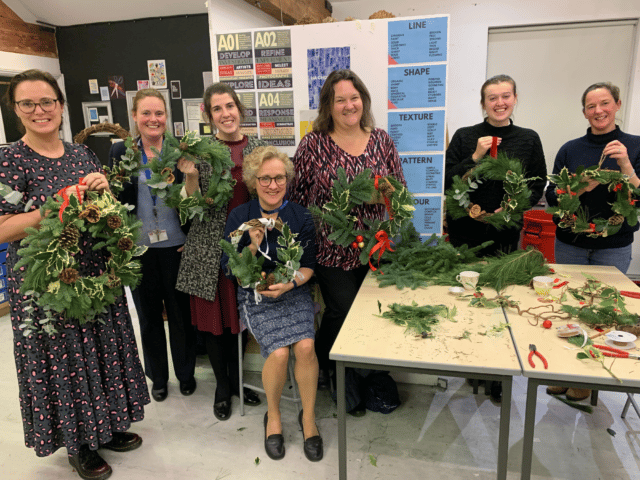 At the centre of mindfulness and wellbeing through art is the Sketchbook Circle, a collaborative project run by Elinor which encourages Art teachers to make time for their personal work.
She explains: "We establish the circle each January and the project then lasts for a year. The idea is that every artist in the circle creates some work in a book and then posts it to the person next to them in the circle The recipient creates some further art in response to the work they have received and then posts the book back. The book then goes back and forth like a pendulum, resulting in two in-depth artistic conversations occurring over the course of a year."
Find out more about Art at Oakham School.