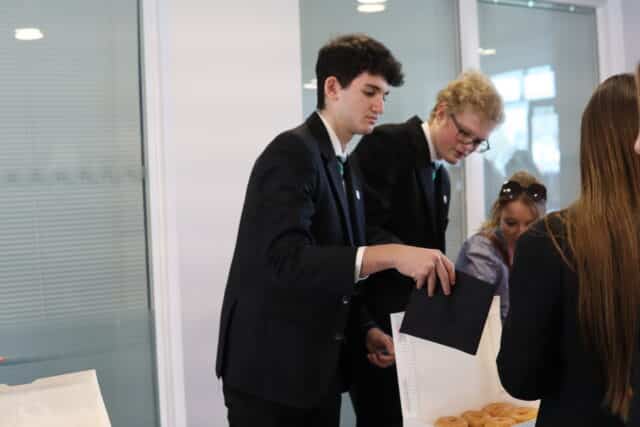 Pictured: Sargon with his peers during the doughnut sale 
By Form 6 Ukrainian pupil Sargon
Currently, we are experiencing a terrible situation in Ukraine and it is crucial to unite at this time to support this cause in any possible way. This is why we gathered a small group of sixth formers to somehow relate to this issue and raise awareness throughout Oakham School.
We initiated this with a sale of doughnuts and badges with Ukrainian and Russian flags on them to symbolise unity and the need to support each other at this very moment. The sale went pretty well and we are planning to sell the remaining badges during Speech Day at the end of this half term. All of the money raised will be donated to the Red Cross which will then distribute those donations to support Ukrainian refugees who are struggling to find places to live.
At the beginning of March, I took part in the MUN conference in Bath, an activity which sees students discuss real-world issues. I was given an amazing opportunity to give a speech in front of the 400+ audience at the end of the conference. I prepared the speech related to the situation in Ukraine, which generally described the appalling events that had been happening in certain regions at that time. The speech was aimed to raise an awareness by giving a general understanding of the situation, as I had access to the Ukrainian media and was better informed about the actual issues.
It was extremely difficult to focus on anything during the first few weeks when the actions have taken place in my own country, especially because I had just started the school term. However, there were some people who were nice to me and empathetic, including the staff within the School, who showed their support. Since the beginning of this ongoing conflict in Ukraine I have constantly tried to talk to people, both online and in person, to raise awareness and provide an understanding of the situation, so that their attitude towards this could become deeper and more serious.
Oakham School is very engaged in charitable projects and it was an amazing opportunity to introduce the charity sale for the Ukrainian cause. It was a real pleasure for a Ukrainian citizen to see students in this school wearing those badges to support the cause.