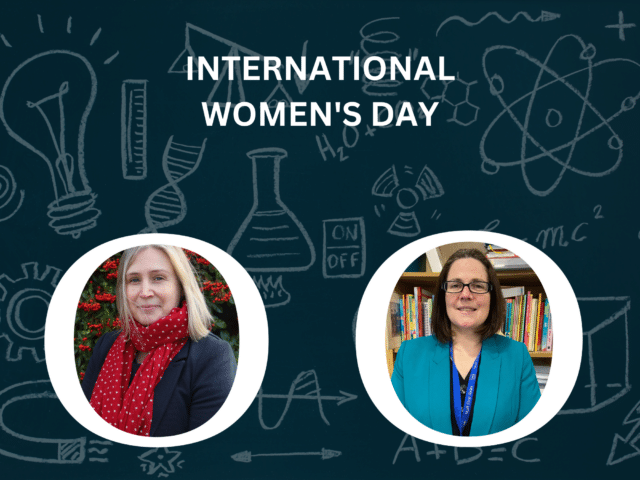 What are we doing to get more girls studying STEM subjects, and what are your thoughts on the wider problem of not enough girls studying the subject?
Lesley Asher-Roche – Director of Studies, Teacher of Maths
As a school which offers the IB Diploma, we inherently have more female students studying Maths in the Upper School than many of our competitors, but there are fewer in our A-level courses despite an equal number studying Maths in Middle School.
Some girls are under-confident in their perception of their ability in Maths which is so sad – they also fight against gender stereotypes. I would encourage female Form 5 students to talk in depth to the female Maths teachers we have in the School – as a Maths Department, we are well represented as we have seven female teachers out of a total of 15 members of staff.
Kelly Gibbons, Teacher of Design and Technology
Old Oakhamians who have studied Design and Technology have visited and talked to our DT pupils about their experiences. Felicity Milton, Global Senior Director at Adidas, has been a particular favourite with our pupils.
We encourage both girls and boys to apply for the Arkwright Engineering Scholarship and internal scholarships and the girls are having great success in this process. Each year a group of Form 6 girls and boys work together for the Engineering Education Scheme project to compete against other schools nationally, which has enabled pupils to experience working alongside an engineering company which in turn has led to work experience and employment for these students. We also compete in the Rotary Club Technology Competition, entering a range of pupils from different age groups. Our activities programme also covers a range of opportunities for girls to gain interest and skills including CAD, 3D printing and jewellery design workshops.
Whilst we have had many girls successfully complete both GCSEs and A-Level Design and Technology at Oakham, a wider problem and stigma throughout society that this is a technical subject that boys tend to choose is a misconception that needs to be challenged.
What advice would you give to girls interested in a career in STEM?
Lesley Asher-Roche, Director of Studies, Teacher of Maths
Research the initiatives available to encourage any interest – so many big employers offer taster days for women interested in STEM careers. Do our young females realise the variety of STEM careers available? I think there is a lack of understanding as to the variety of careers that come under the STEM heading www.stem.org.uk www.stemwomen.com
Kelly Gibbons, Teacher of Design and Technology 
If it is something that you love, never give up, no matter what barriers you may face. Gain as much work experience as possible and use your caring side to challenge the problems that we face globally to improve the world that we live in, including sustainability and inclusive design. Design and technology isn't just about a product's function, it is about the user's needs, experience and enjoyment of the design too, so your caring and empathetic side is also key to be successful.
What career options are available to students (in your subject area)?
Lesley Asher Roche – Director of Studies, Teacher of Maths
Maths is a subject which has links to so many different degrees and career choices. It develops so many key skills: processing information, attention to detail, applying logic, problem solving, written and verbal communication, linking methods, creative thinking…….
Kelly Gibbons, Teacher of Design and Technology
Product Design, Industrial Design, Mechanical Engineering, Architectural Engineering, Structural Engineering, Graphic design, Furniture Design, CAD Technicians etc
Which female role models do you have in mind in your subject area?
Lesley Asher-Roche, Director of Studies, Teacher of Mathematics
Within the media, we have Rachel Riley and Carol Vorderman leading the way in promoting the use of Maths (Countdown). My personal role models are slightly older! Florence Nightingale was a very early pioneer of the use of statistics in medicine, particularly tracking mortality rates in the Crimean War. Marie Curie used her degrees in Maths and Physics to investigate the use of radioactivity and was jointly awarded the Nobel Prize of Physics in 1903. Top of my list though are the female code breakers of the 20th Century like Elizebeth Friedman, who was a key player in WW1, and the women who were an important part of the code breaking team at Bletchley Park during WWII – these women got very little recognition for their efforts at the time but are now more widely recognised.
For some more inspiration, watch the film Hidden Figures about the women who played a key part in the early years of the US space programme in NASA.
Kelly Gibbons, Teacher of Design and Technology 
Marianne Brandt, was an exceptional designer particularly in the male dominated field of metalwork in the 1920s.
Ray Eames, a designer who took risks in her design work alongside her husband, to experiment with new materials and processes including the plywood leg splint that helped thousands of soldiers during WW2.
Hedy Lamarr, an actress, keen inventor and scientist, she worked on developing the wings of planes to make them fly faster. Her work on a radio guidance system for Allied torpedoes during WWII contributed to the development of the modern Bluetooth and Wi-Fi technology, which in turn has led to many technical products being developed that we use on a daily basis including our mobile phones.