With her family in the military, Form 7 (Year 13) pupil Lotte moved around a lot when growing up and found stability in boarding at Oakham School.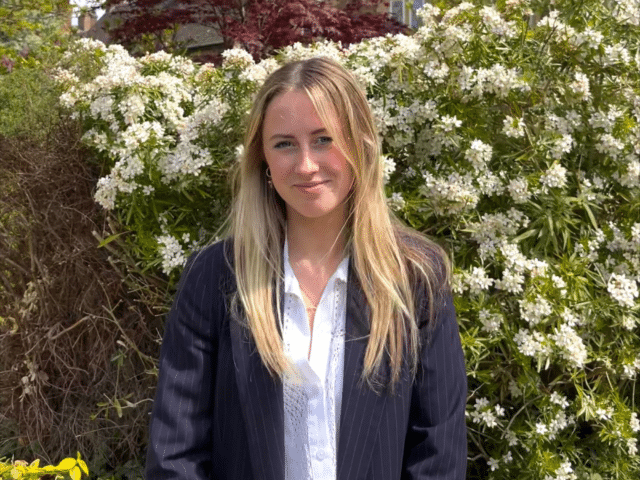 Born in Scotland, Lotte joined as a full boarder in Lower 1 (Year 6) and has enjoyed the variety, friendships and on-site support network during her time at school.
As Lotte's dad is in the RAF and must relocate regularly for work, boarding was always on the cards.
"Because of my dad's role, we've lived in so many different places over the years and I was always going to go to a boarding school because of this.
"I made the decision to board earlier than we originally planned and joined in Lower 1 which, looking back, I definitely think was the right call."
Boarding offered Lotte and her family a stable environment to call home.
"It's good because moving around a lot could be quite disruptive in terms of schooling and making friends so it's nice to have a secure place where there's lots of familiarity because I'm with friends and House staff who are always around for support."
"I got to know the school really well in that first year so by the time people were joining Form 1, I was already settled in and knew the Oakham ethos and the opportunities that were available to me."
"I also really enjoyed my weekends boarding in the Lower School because we did lots of fun activities and I learnt new skills like cooking and gardening which made it feel really homely."
"I'll always think of Oakham as my home."
Lotte has thoroughly enjoyed the social aspect of boarding.
"What I like most about boarding is getting to spend time with my friends outside of lessons, because it almost feels like we get to have a sleepover every day."
"I also really enjoy the weekends here. Some of the weekly boarders enjoy going home on Saturday nights, but I like it when there's more space and things are a bit quieter because it gives you some much-needed downtime."
Despite being nervous to join, Lotte found comfort in literary tales of boarding.
"When I first started, I was scared because I didn't know what to expect and it's hard to be away from your family at a young age, but I settled in really quickly."
"After reading all of the Malory Towers books I actually became really excited about the idea boarding and being with my friends all of the time."
The boarding experience has evolved with Lotte as she's moved up the school.
"It's different now that I'm older as, when you move through the Middle and Upper School Houses, you're given more responsibility and freedom."
"I recently revisited Hodges, the Lower School Boarding House, for a reunion with our former Lower 1 group, and it looked so different to how I remembered it when I was there eight years ago, but there were still some familiar faces there which were really nice to see."
Now Lotte is in her final year, she is in Round House, a space designated to all final year girls whether they're day, weekly or full boarding.
"Throughout my time at Oakham, I always looked up to Form 7 pupils and was really excited to move into Round House."
"Supported study sessions and having a library on our doorstep have been really helpful during our busiest times so it's good to be on campus all the time and be able to go to these when I want."
"We're revising for our exams at the minute so it's not only good to have everything close by, but it also really helps to have your friends around you, so you don't feel isolated."
Find out more about Boarding at Oakham School.