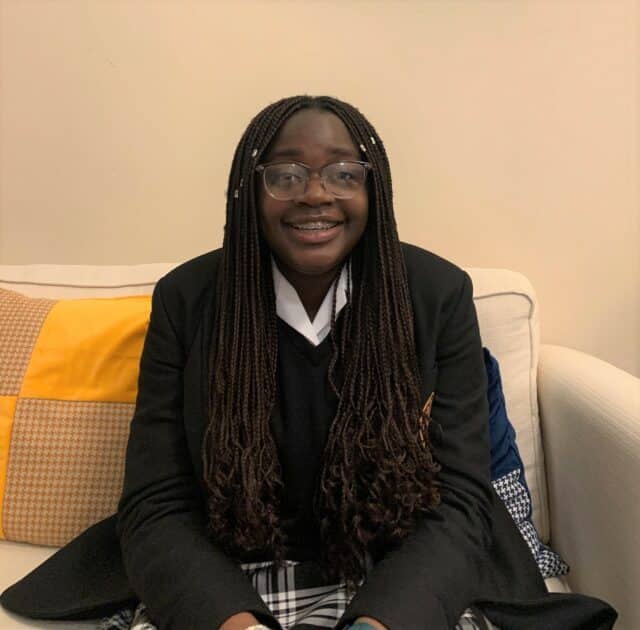 Oakham School is providing a behind-the-scenes look at a UK boarding school with its interview series, The Boarding Bios.
Form 3 (Year 9) pupil Iwinosa joined this academic year having previously been at school in her home country of Nigeria. Whilst boarding wasn't a new concept to her, there were many changes for her to adapt to when she moved to Oakham School.
"When I first thought about coming to England to a boarding school it felt a bit weird as it wasn't something I'd done before, but it's strange now, because I don't feel like I've been homesick at all since arriving here."
"I mean, of course I miss my family and my home in Nigeria but it's not like I'm scared or anxious; I feel very at ease at Oakham School."
Boarding in England has proven very different to the schools Iwinosa has been to in Nigeria.
"I've boarded ever since I started secondary school, but before Oakham this had all been in Nigeria. The boarding house I was previously in was really fun but very different from here."
"We all lived in flats out there and each room would fit about 12 pupils in it. Sharing that closely with 11 other girls could definitely be challenging at times. Being in Buchanans now is really different because we're all together in one House but have rooms of two or three people which is really good to have a bit more privacy."
"Boarding has always been a very normal thing for me. I wouldn't say everyone does it in Nigeria, but a lot of friends I know also boarded, so it wasn't a strange concept for me at all."
"It's been really nice coming to school here, because everyone has been really welcoming and is very friendly to me."
Whilst there are many things to take in when moving to England, Iwinosa has found the weather to be one of the biggest changes.
"It's of course been quite different coming to England having grown up in Nigeria. The culture is very different, but the weather is especially surprising. I actually saw hail for the first time recently and I've still never seen snow – but I'm sure I will do at some point soon!"
"When it was hailing, I was really shocked, because I've only ever seen it happen in movies and it's very odd to think of ice falling from the sky."
"It's always hot in Nigeria, so it's strange to go from living somewhere so consistent to coming here where the weather is unpredictable."
Iwinosa has been able to try things she's never done before.
"This year is the first time that I've ever played hockey, which was really fun. There's no hockey in Nigeria at all, so it was really interesting to learn more about it and give it a go. I'd only really heard of ice hockey before and didn't know you could do field hockey."
"The first day I played I didn't know what was going on at all. I didn't have a hockey stick or any shin pads, but the School supplied me with the right equipment and I was shown how to dribble the ball."
"I'm not the best at playing hockey at all, but I'm still learning and I'm getting better."
Outside of the timetable, Iwinosa is also enjoying all of the activities available at Oakham School.
"We recently did karaoke in our House and it was so much fun – I like to joke that I'm a pretty good singer now actually. There are so many things that you can do at the School outside of class time, so you never get bored."
"We've also been out on trips with other Houses and recently went to Rutland Water for a long walk with another Girls' House. We also recently went to Leicester Outdoor Pursuits to have a go at the wall climbing, which was really fun but I was so scared doing it!"
Along with adapting to a new culture and the charming British weather, Iwinosa has noticed a big change in the diet of people in England.
"I've noticed that people eat a lot of pasta here. Especially in the Barraclough Dining Hall, pasta is really popular and people love it. In Nigeria the food is very different but in comparison we eat a lot of rice. The food is a lot less spicy over here, so it's harder to get used to."
Find out more about Boarding at Oakham School.