Oakham pupils are returning to Africa for the first time since the pandemic to support primary schools in rural Kenya. The group of Form 6 pupils will be helping to improve classroom conditions, and they will also be supporting the staff by teaching some lessons. Below are updates from the pupils taking part in the trip:
Final Day
This morning we got to have a lie in and a lovely breakfast before heading off to the market to practice our haggling. Following on from that, we headed to the giraffe centre where we were able to feed them and look around the gift shop.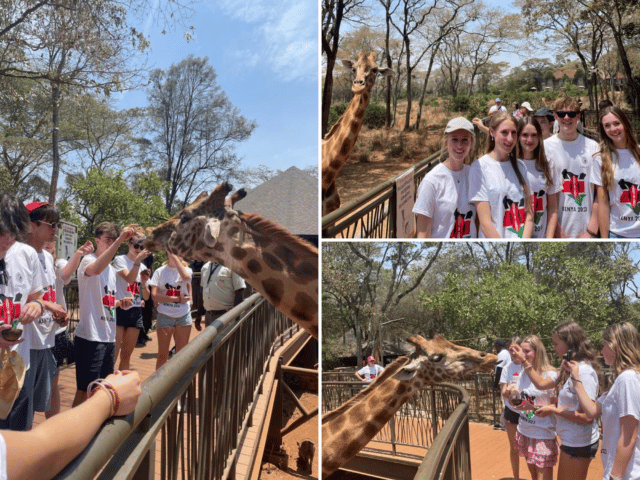 Afterwards we ate a delicious lunch at Wildebeest Eco Camp and headed back out to the Galleria Mall market to put our haggling practice to test. We shopped around and then were then kindly gifted delicious frozen yogurt by Grace. Lastly, we came back to the camp to pack up and had our final Kenyan supper before heading off to the airport.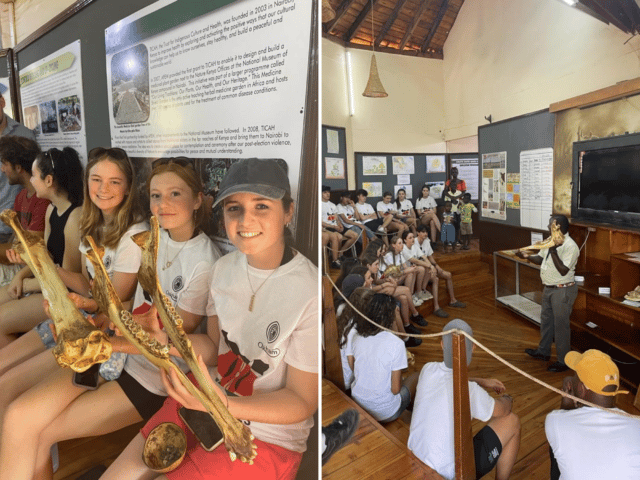 We've had an amazing experience, thank you to Grace and Charles for all their help and SJG and MRS for the organisation of the trip.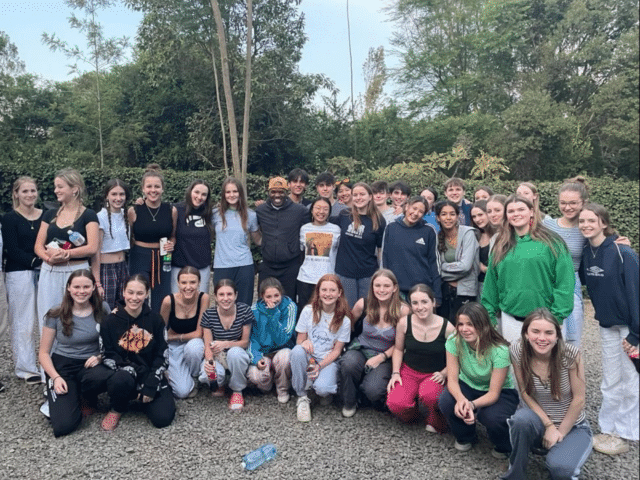 Day 7
Today we had a very early start as we were heading back to the Eco Camp in Nairobi. It was a long, 7 hour journey, but we were all still in good spirits.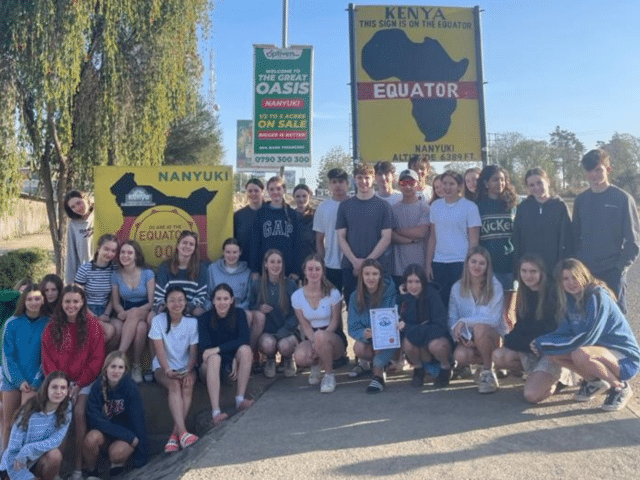 Once we arrived, we unpacked and had a well needed, tasty lunch. We then had an afternoon of sunbathing, relaxing and swimming in the pool. Then we got dressed up and headed to Carnivore.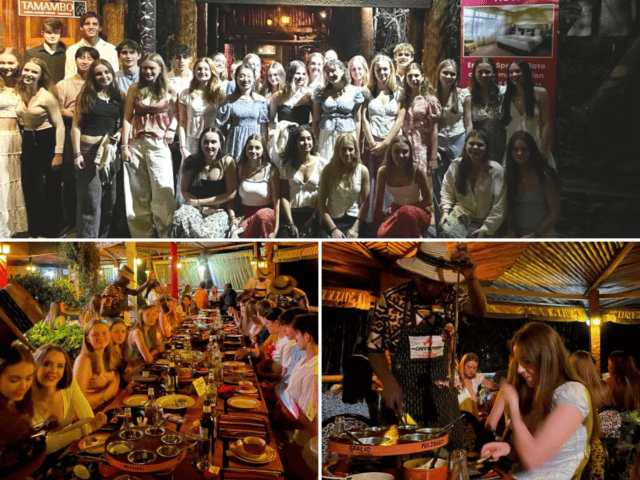 Here, we had an assortment of different meats, including crocodile. It was a great last night full of laughter.
By Phoebe and Charlotte 
Day 6
We started the day by waking up early to catch the sunrise over Mount Kenya before beginning our journey to the game drive. We were lucky enough to see many safari animals including rhinos, buffalos, a giraffe, elephants, gazelles, zebras and warthogs.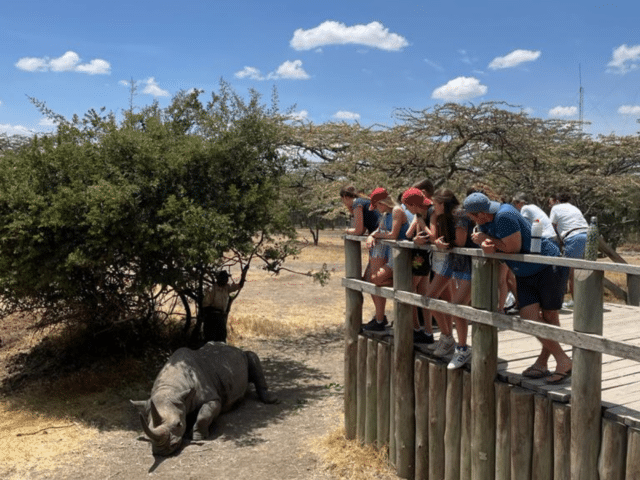 We also had a guided tour of the chimpanzee rescue centre and then saw a blind, friendly rhino called Baraka who was 28 years old! Afterwards, on our way back to Timau River Lodge, we stopped off at the shops for some snacks. During this stop, we were pleased to see the Kenyan school children walking home wearing our Oakham School shirts and sports kit we gave them yesterday. Lastly, we packed for traveling tomorrow to the Wildebeest Eco Camp and Mrs Gomm treated us all with a drink.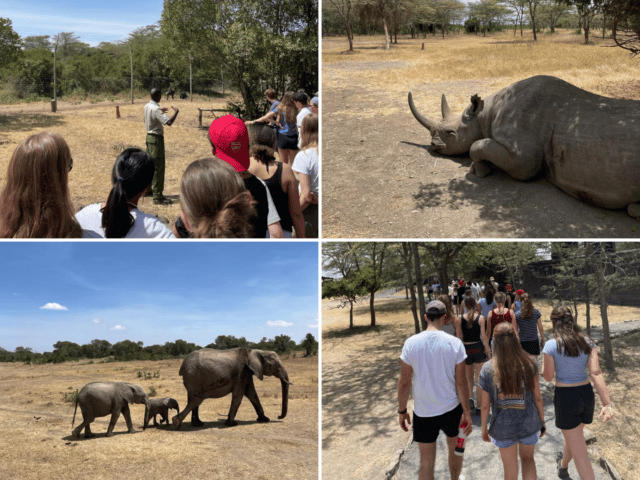 By Martha, Daisy and Kitty 
Day 5
Sirimon Group – Today we ventured back to our respective primary schools and instead of painting and improving the school, we spent our morning teaching a variety of subjects to a wide range of ages. This was a perfect way for us to connect with students as we learnt more about their way of learning, but also encouraged new techniques which we hope the teachers will use moving forwards.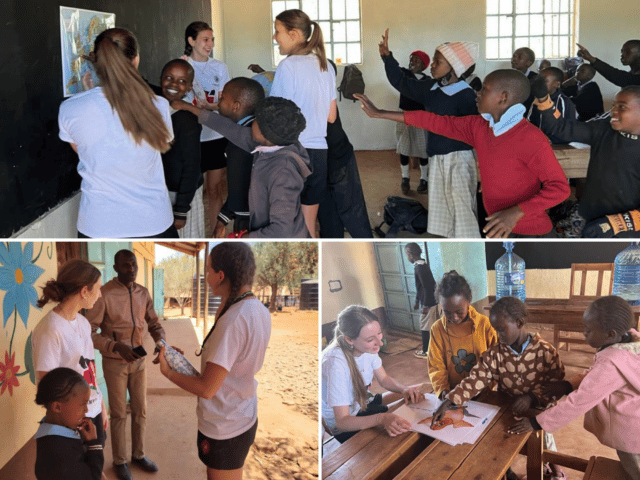 Lunch consisted of a traditional meal which had mixed reviews, however was enjoyed socially by all. The afternoon was spent on the schools dusty playing field where we watched, listened and participated in a number of leaving ceremonial performances. All in all, despite the emotions of leaving our newfound friends, today was a perfect way to end a great few days at the school.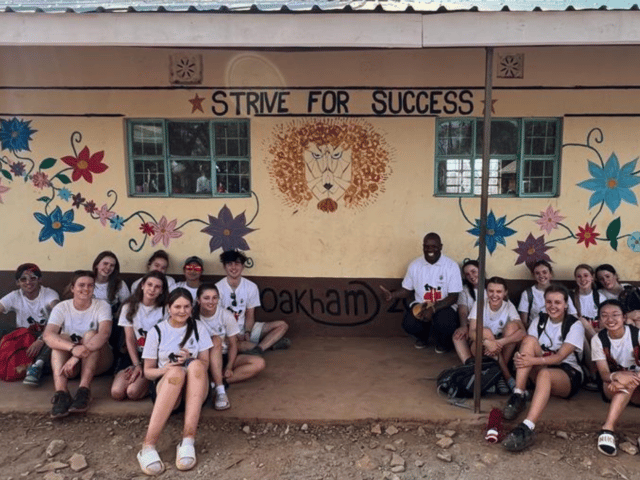 By Flo and Roshan
Mutethia Group – Today we arrived at the school promptly in time for lessons to start. We all taught from grade 4 – 8 and taught 6 lessons. There were different lessons being taught. Once we all got the hang of things, the lessons were very enjoyable for us as teachers and for the children.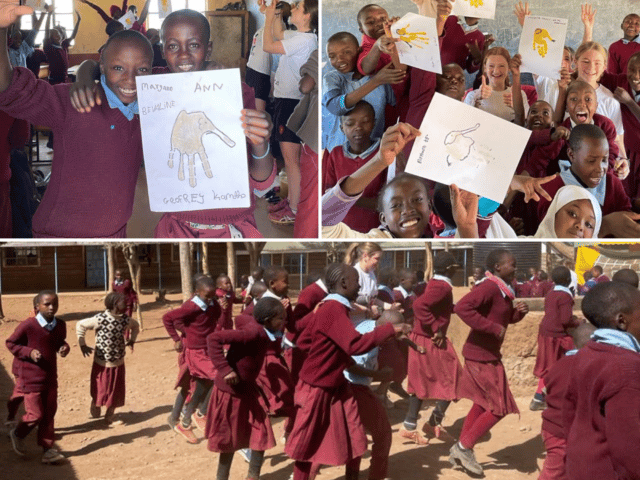 We were then served a traditional meal for lunch cooked by the school and received beautiful flowers. In the afternoon, a closing ceremony took place. This consisted of the students performing a traditional dance and us then performing our dance to dancing queen. We then gave out all of their t-shirts and it was amazing to see the smiles on their faces. This was a very enjoyable day and saying goodbye to the children was an emotional experience. We then had a relaxing afternoon back at the river lodge and had a barbecue in the evening.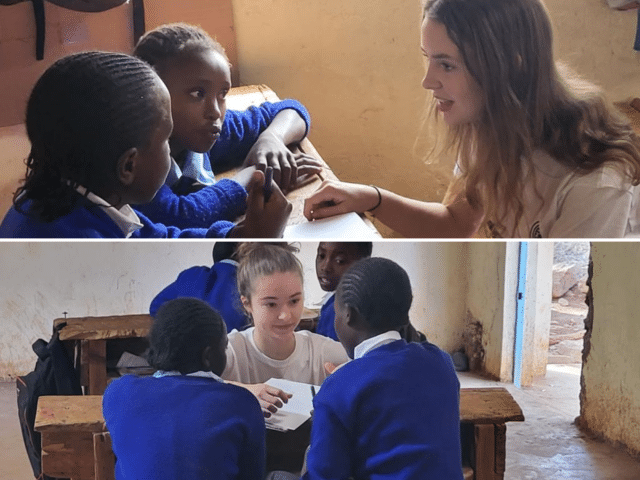 By Daisy and Lulu
Day 4
Today was very exciting as it was our first day with all the children at Sirimon Primary School. We arrived to a very warm welcome from the Grade 2 class and their teacher Mr William. They greeted us with a lovely song which we were all really touched by. After the welcome, we moved on to the final touches of the desks, chairs and windows and then we swiftly moved on to start our mural.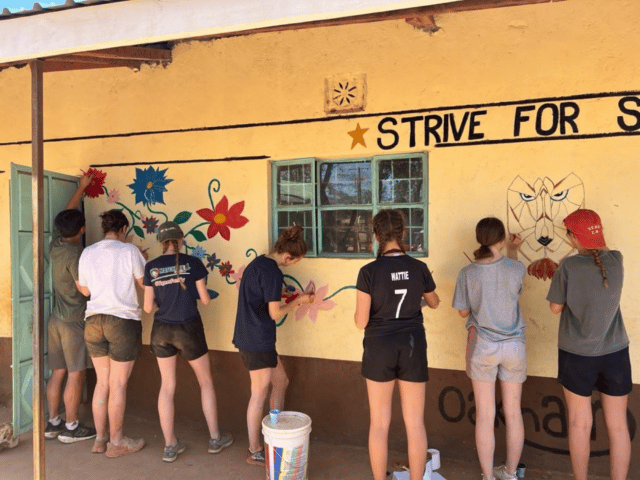 We decided to paint a lions head as that is the national animal of Keny and added our own personal touch with handprints for the mane. This took longer than expected as we took a few spontaneous breaks to chat and play with the school children. In the afternoon, we had organised a sports day for the younger children. This consisted of stuck in the mud, tyre rolling races, and ball games. This was perceived very well by all the children with lots of smiling and laughter and a little bit of chaos. We had an amazing day and cannot wait to come back tomorrow.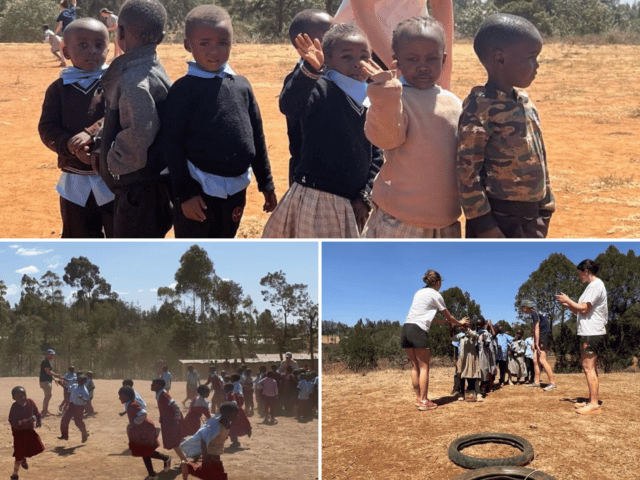 By Milena and Tilly
The Mutethia group arrived at the school this morning and got to work, painting the last classroom and finishing off varnishing the desks. At the first break, the children came running out the classrooms to meet us, they were so excited and sung us a song to welcome us.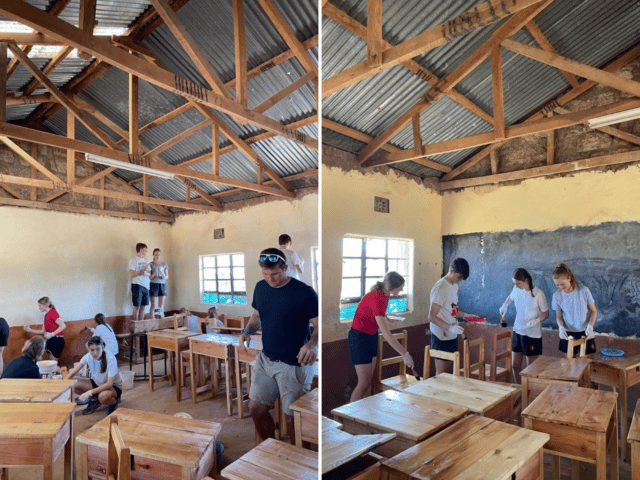 We then spent the rest of the morning with a mixture of finishing off the classroom and spending time with the children; playing in the playground and going around the classrooms.
After our lunch break, we hosted two sports days for the younger students, where we played a mixture of games including a stone and spoon race, grandpapis footsteps and relays. It was a really eye opening and enjoyable day, and was such a new experience for all of us.
By Olivia and Livvy
Day 3
Our group arrived at Sirimon for day 2 of work and quickly got started on the tasks. Today's jobs were to: finish painting classrooms, paint the windows and doors and varnish new tables and chairs for the children. We were accompanied by three locals who were quick to show us their tyre rolling skills!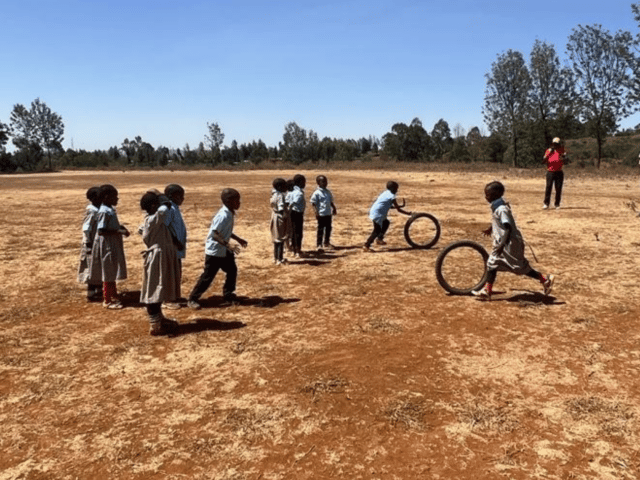 We continued with today's jobs, and many more boys joined us after lunch. They loved the music and loved to play ball games – especially football! We played with them whilst we worked, they are all so lovely!
We then painted the window and door frames outside which made a lot of difference. Finally, we finished varnishing all the tables and chairs and then went out onto the pitch to play football with the locals.
When we got back to where we are staying, we had lots of tropical fruit and tried tree tomatoes. After dinner, we had a bonfire and watched the stars, which looked great under the cloudless sky.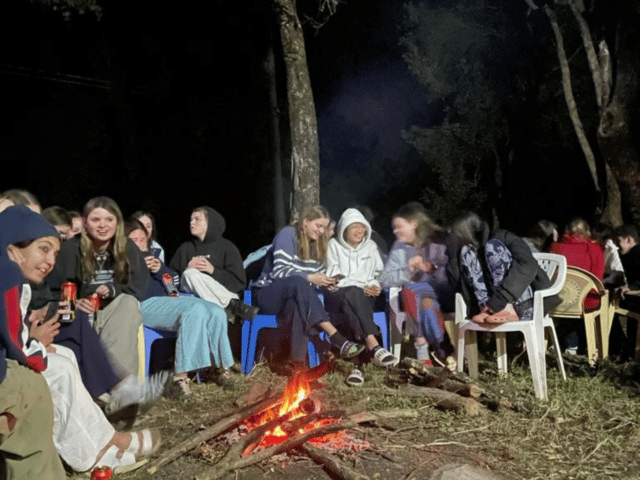 By Jemima and Evie
The Mutethia group started the day by finishing off the final layers of paint in both the classrooms and varnishing the new desks and chairs. We completed this quickly and are proud that it is done in time for the children to see tomorrow.
Over lunch, we rehearsed our farewell dance and song 'Dancing Queen', anding in a congo line which some of the children joined in with.
In the afternoon, we painted the outside walls and blackboards whilst the others created a large mural of two elephants and an orchid (the national flower of Kenya) on the back wall of one of the classrooms.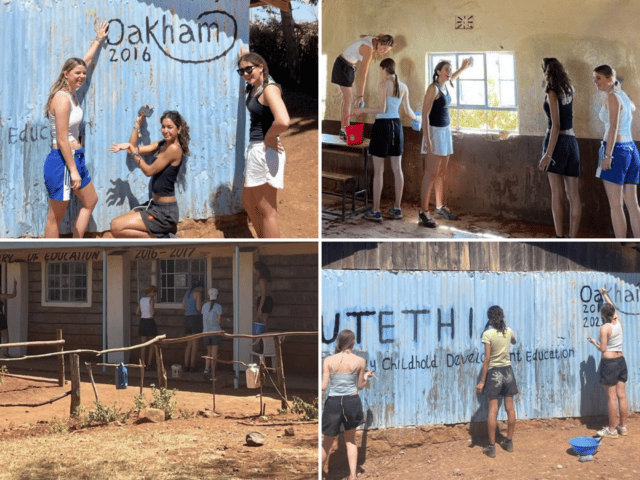 In the evening, we began plans for the next day and enjoyed some local fruit, inlcuding trying tree tomatoes for the first time, which were all bought at a market in Timau. The day ended with the Big Kenya Quiz at the firepit, looking at the amazing stars.
By Scarlet and Izzy
Day 2
To start off our first full day at Sirimon School, our group did a briefing before leaving on the matatu buses. When we arrived we were told what jobs needed to be completed and we met Rachel, one of the school teachers, along with the headmaster Peter who were very welcoming.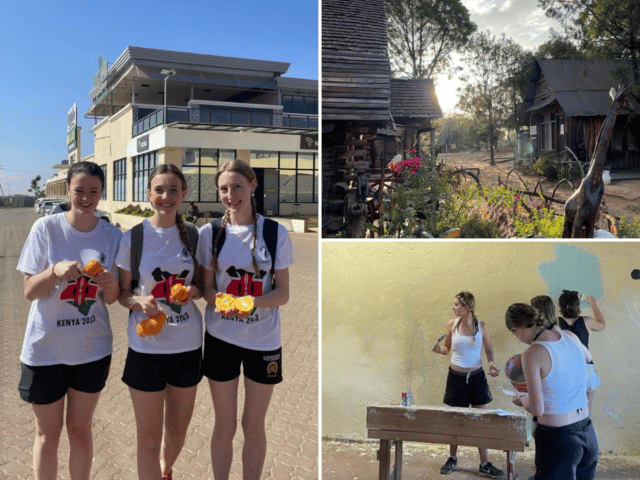 After the classrooms had been unlocked, we assigned jobs for everyone, firstly sweeping the dust off windows and inside the classrooms so they could be painted. We managed to do the sweeping very quickly and got on with painting the blackboards, walls, doors, poles and window frames.
Our organisation and teamwork skills were very effective! During all of this, the new wooden desks and chairs for the classrooms arrived and we helped take them out of the truck. This was followed by a relaxing lunch break, brought to us by Charles, our group leader, who knows a lot of the children at the school. After lunch, when we got back to work painting the doors and second coat of the classrooms, we were joined by some of the students who were very intrigued and excited to see us.
We introduced ourselves to each other and once we had finished all the work they were very eager to show us their football skills which put ours to shame! Overall, it was a very successful day with lots of fun in the sun.
By Bella and Jo
After arriving at Mutethia, our group got straight to work with cleaning the two classrooms that we designated ourselves to. In our first break, we enjoyed a very exciting game of Heads and Shoulders in English and Swahili with Jeff, Enoch and a few other local children.
We then got to work with sanding, varnishing and painting the classrooms and desks. The classrooms were how we had imagined them to be, but were surprised by the facilities and how awful these were.
We ended the day with two coats of paint on the two classrooms, which we will continue tomorrow. We then returned to camp to enjoy a celebratory cake and fruit for Annie-May's birthday followed by a lovely supper and bed.
By Imi and David
Day 1
We started the day by waking up early and tired after only 3 hours sleep. We then set out on a long but enjoyable journey from Nairobi to Timau where we will be working with the schools for the next two days.
We managed to buy the water we needed for the whole trip (640 litres). Once we arrived at the lodge we were greeted by very hospitable staff who greeted us with flowers and watermelon juice.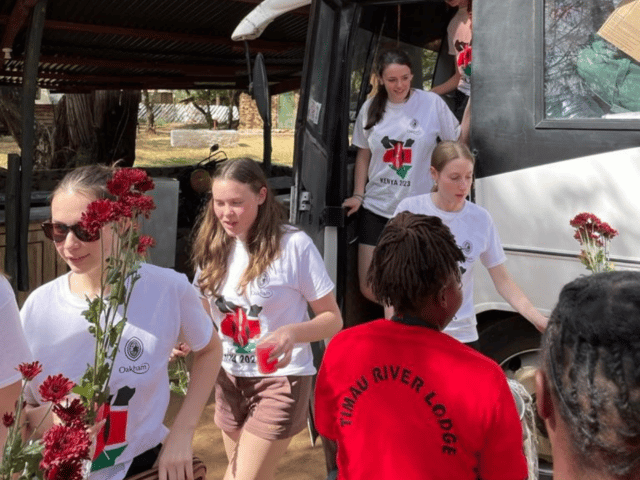 We then unpacked to settle into the lodge and played games as a group in the evening.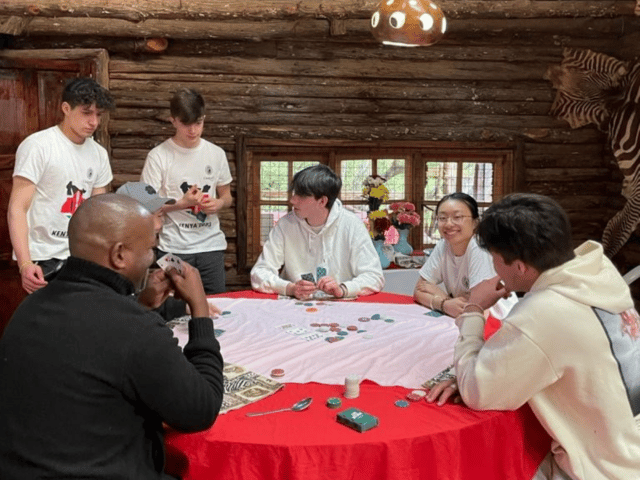 The Journey 
The journey was initially a bit hectic and rushed as we made our way to the bus, purely because we all woke up at 2.45am very tired. Once everyone was on the bus, the journey went by very smoothly due to the low amount of traffic. We were able to arrive half an hour early compared to our check-in time. Once everyone checked in and went through security, we were able to walk around Terminal 5 and buy refreshments and breakfast. However, it was then that we found out our flight was delayed by an hour, and we were given another hour of free time. Once the boarding gate was shown at 9.30am we all then proceeded to make our way there. We are all very excited to get to Kenya.
By Matthew
Preparing for the Expedition
Those pupils who are going to Kenya have been very busy organising materials needed for the trip. In small groups of two or three pupils, we will be teaching the Kenyan children many different lessons, so the planning process has involved a lot of organisation and initiative. In each lesson there will be around 30 to 35 children and those teaching the lessons will have to teach them to nine different classes. There is a huge variation in the subject choices – from languages to music. Firstly, the lesson must be planned, so the students will find it both enjoyable and interesting. Secondly, the lesson must also be planned to fill the 40-minute slots, while also considering the time taken for the kids to perform each task planned. Finally, the individual groups must recognise the materials needed to produce the desired lesson to keep it interactive, as well as acquiring these materials for all the lessons that we will have to teach. The process of planning these lessons will also help us the 'teachers', as it gives us an opportunity to learn and acquire new organisational and communication skills as well as to explore new subjects and new challenges. 
By Bella