Introducing Chris Prosser, Director of Hockey
23rd September 2022
As Oakham School celebrates the new academic year with the return of familiar faces, it also welcomes new staff to the community.
We sat down with the new Director of Hockey, Chris Prosser, to learn more about his experience, his passion for hockey and what drives him as a coach.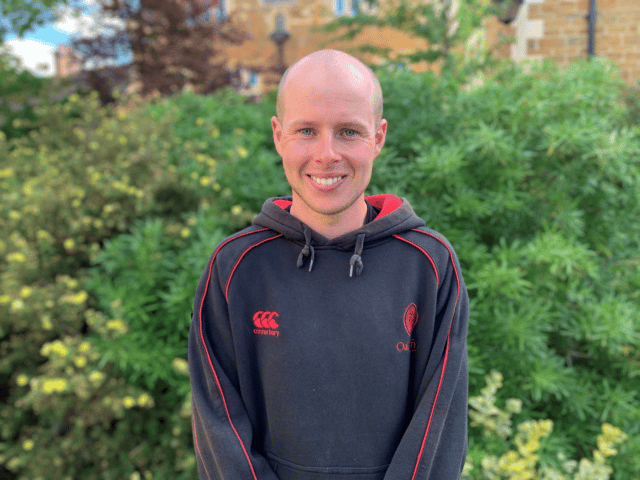 Tell us a bit about yourself
I'm originally from the West Midlands and growing up I was really into football and rugby, so only got into hockey when my friend asked me to go and play with him one day. Ever since I went to one of his training sessions I fell in love with the sport and knew it was something I wanted to pursue in the future.
I studied Sports Coaching Science and Physical Education at Worcester University which then gave me exposure to the teaching side of things which I really liked. Whilst at university I went on a placement at an independent school and since then have pretty much kept within this sector.
About four years ago I become Head of Hockey at Moreton Hall School in Oswestry, before going to Denstone College in Uttoxeter where I was Director of Hockey for a couple of years.
What attracted you to Oakham School?
Oakham is a highly regarded school so when the opportunity came up to work here I was really excited to apply. I think we have a great hockey programme so I was really attracted to working at the School. It's a role that I'd always kept an eye out for as I'd seen Oakham play at national championships before so it's amazing that I'm now working here.
What's the best thing about Hockey?
My favourite thing is the pace of the game and the fact that it's 50/50 in participation between genders. From my point of view, it's really important that we offer the same opportunities to both boys and girls and show them that there's no gender bias.
I think coaching both boys and girls sometimes requires different skill sets and different ways of approaching things, so this is something that I really enjoy as it pushes me to be better in my role.
What are you most looking forward to in your role?
I'm really excited about developing our hockey programme even further and to keep moving it forwards. Oakham has had a massively successful programme for many years now, so it's great to be building on a successful foundation and pushing it to new levels.
How do you encourage pupils to get involved?
The biggest thing for me is making hockey enjoyable for all pupils and making the experience fun for them; that's something that I encourage all our coaches to do. I want to inspire pupils and allow them to enjoy hockey so they want to play it long after they have left the School, whether that be for England or in a local team just for fun.
From a coaching point of view, I also have to ensure that the session design is right so that it's not boring and that pupils are not just standing around in the cold. It's got to be an engaging environment where there's some autonomy for the players and where they get a say in what they get to do and how they can achieve their success.
How have you settled in?
As part of our induction process, Iain, our Director of Sport, took us for a singing lesson with the Music Department which made me really nervous at first because it's definitely not my strong suit. Standing up there and doing something out of my comfort zone was challenging and actually that really made us relate to how a pupil would feel if they didn't enjoy or didn't know much about hockey.
It made us think about how we can further break down those barriers and introduce things in smaller steps so that when a pupil tries something new they're not just being thrown in at the deep end.
What's coming up this term?
Both the boys and girls will be playing in the National Tier 1 Cup which is a league, and then the top two teams from this will go through to the National Quarter Finals. We've just started playing our first matches for the term and we have a few more in the pipeline.
We'll also have the indoor matches for boys and girls which is something we've been really successful in before and is something I'm keen to build on. That's a big focus for us after half-term as we have some games coming up then.
What's your favourite part of Oakham School so far?
I like the structure of the days and how I get to coach so many different pupils. I see everyone from Lower School to Upper School within a week so everything is very varied and I get to meet lots of new people.
The other thing is the sense of community within the Houses. I'm a Tutor in Clipsham House and I really enjoy being a part of team and working in House with my tutor group. I like that my involvement with the School isn't just hockey related. No matter what my tutor group are interested in, if they love hockey, art, drama, I get to work with them and support them through their studies which is a really amazing thing to be able to do.
What are your hobbies?
I took up running four years ago and have started to take that quite seriously. I did my first marathon this year and try and do races when I can.
I've also got dogs at home, so really like going on long walks with them and just generally being active.
What's something people don't know about you?
I've done a lot of work for charities over the years, whether that be volunteering at events or raising money by doing fitness challenges.
Find out more about Sport at Oakham School.